International Moving
Are you looking for a trusted Canadian international moving company? Hercules Moving Company is focused on providing the best customer experience during any type of international move.
International Moving Companies
Which features differentiate Hercules from other international moving companies in Canada? Our dedication to values that we've carried through decades, a passion for what we do and full commitment of each worker.
Our goal is to make your upcoming relocation to a new country as relaxed and comfortable as a family adventure. We will educate you on the facts and occasions that may occur during the moving and prepare you and your belongings to successfully overcome any circumstances, even unforeseen.
Complementing the practice of the best international moving companies, our relocation experts can help you with a variety of moving needs. We can advise about both temporary and permanent housing solutions and give further support during your family's acclimatizing to the environment of a new country.
Being industry professionals, we'll help you with immigration services and prepare work authorizations, passports and customs documentation before your move. We are a fully licensed and insured company, which means your property will be protected while in transit.
International Movers
Our company hires international movers with convincing end-to-end moving experience, which ensures that each move is a successful move. The movers perform a tested, unique padding and wrapping technique that is especially designed for international relocation to protect all types of belongings including antiques, artwork, valuables and fragile items during the long trip. We've successfully coached our movers with a video training program and confirmed their acquired skills through practical application before they may proceed to the execution of international moving orders. In addition to being experienced and knowledgeable, all of our movers will be uniformed, polite, fully-equipped and arrive on time.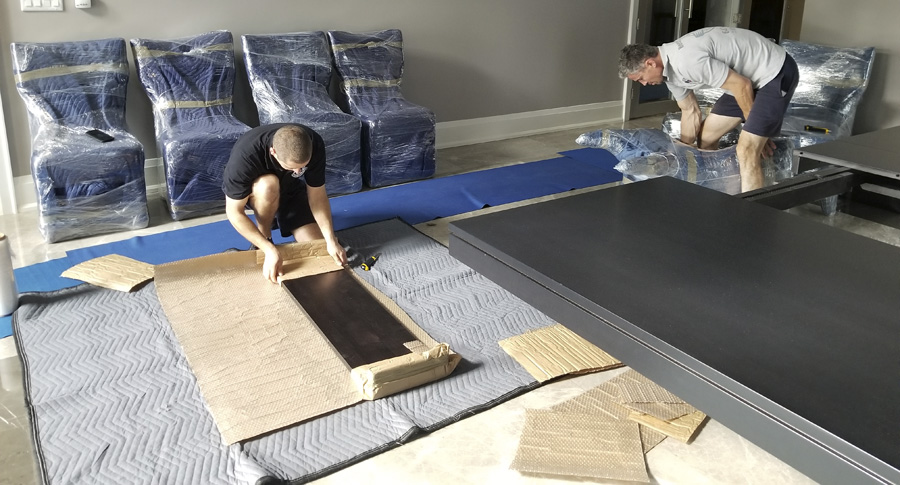 International Moving Services
Hercules focuses on providing international moving services from North America to Europe, Australia, USA, South America, Asia and other worldwide destinations. Our experienced team will create a personalized moving plan for you to move abroad safely, with confidence and stress-free.
Here is a brief overview of what your move will consist of.
Planning the International Move
To give you the most accurate international moving quote our company will assign you a dedicated moving coordinator. Your moving coordinator will consider every detail of your relocation to offer personalized, accurate and cost-effective international moving rates and solutions.
Packing Belongings to Worldwide Shipping
Our uniformed and skilled movers will come to your home, label and inventory your belongings, crate, and wrap and pack them securely for the upcoming international shipping. International movers will also disassemble and reassemble your furniture, and offer custom crating services for your bulky items.
Global Storage Solutions
If you require storage-in-transit while renting a home, our international movers and packers will offer you a personalized solution. We provide both short term and long term global storage services.
Relocation and Unpacking Overseas
Hercules eliminates the unnecessary stress of paperwork and customs clearance; our agent will take care of all international moving aspects. After your valuable effects reach the new home, overseas movers will unpack them, reassemble/install your furniture and remove packing debris.
Our worldwide Canadian moving company offers a variety of other international moving services. Give us a no-obligation call so we can help you get started on your upcoming international relocation in detail.