Long Distance Moving Companies- How to choose?
There's quite few full service long distance moving companies in Canada and there is always a difficulty to choose which one is right for you.
Moving to a new home or an office in another city or province is always an important task in everybody's life. To make a long distance moving a stress free and, moreover, a pleasant one, it is critically important to select the right long distance moving company, which may become a truly scrupulous task. It is important that you give yourself plenty of time, and put in the work to make sure that the moving company you are researching meets all of the criteria outlined below. The moving company you hire will be responsible for the safe and careful relocation of every item from your home or office. As a result it is crucial that you thoroughly check their reputation before hiring them. Listed here are a few tips which will help you narrow down the best long distance moving company to handle your move.
Read Reviews of Long Distance Moving Companies
With the prevalence of social media, online blogs, and ratings websites across the web, it's difficult not to come across critical information about all businesses, and particularly moving companies. When choosing a long distance moving company be sure to only choose from companies that have accumulated a considerable amount of online reviews and ratings from previous clients. Some reputable sites and sources for reviews include Google, CAM, Facebook, HomeStars, and the Better Business Bureau (BBB). Be wary of long distance moving companies that have little to no reviews on any of these sites, and little online presence in general. You can also ask for referrals from friends, family, and real estate agents. Whichever route you chose to go, make sure you put some time into doing thorough research when picking a company for your long distance move.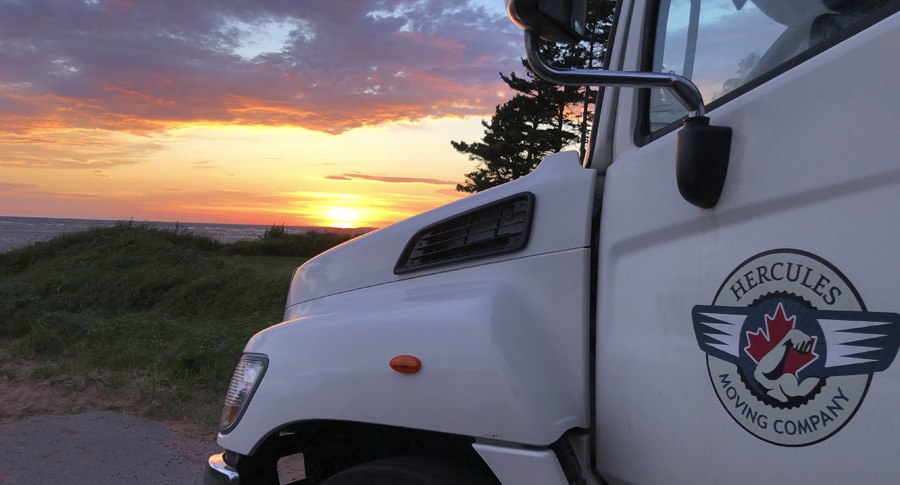 Make Sure Your Long Distance Movers Are Insured
Insurance of your home, belongings, and the company's employees is another important aspect that you need to concern yourself with when picking a moving company for your long distance move. When asking a moving company about insurance, make sure to ask specific questions such as how much they are insured for, how much is the deductible, and if they have had any claims filed against them in the past year. Hiring a fully insured and bonded company will also guarantee that the employees are professional movers, and not simply day labourers.
Hire Long Distance Movers with Experience
This one may sound like common sense, but make sure to choose a long distance moving company with plenty of experience. Experienced movers know how to handle your belongings with the appropriate care and attention, which is especially important during a long distance move. A long history of company's activity is also an indicator of staying power, which means that the moving company delivers a quality service that has been in high demand for many years. Experience counts for a lot when hiring a long distance moving company, so be sure to do your research before settling on any one company. Hercules Moving Company has been in the long distance relocation market for a long time. That is why we are highly experienced and know each detail of high-quality long distance relocation.
How much do movers charge for a long distance move?
When choosing a long distance moving company, make sure ask the right questions about additional charges such as:
Storage
Fuel Surcharges
Stairs, Scale Fee,
Packing and Unpacking, Moving Supplies
Special Items, Kayaks, ATVs and Vehicles
A reputable long distance moving company will inform you upfront about all of the costs, so stay away from moving companies that try to hide anything.
The price of long distance moving or moving in general also fluctuates throughout the year. It is cheaper during the off season in winter and gets pricier in the spring, so be conscientious about your budget, and all the tariffs involved. However, lower tariffs don't always imply a lower bill.
Companies with low prices are less likely to be professional movers and may try to stretch out time, or inflate the rate halfway through the move. To avoid paying more for long distance movers than you expect, make sure to get the tariffs you are quoted in writing, and get a contract with all of the pricing written in.
Pay Attention to Details
Before you settle on your long distance moving company of choice, make sure to ask questions about the quality of the work itself.
Will the movers be wrapping and padding all of the furniture with blankets, and covering it with shrink-wrap?
Will they be using floor runners to protect the floor from dirt and scratches?
What size of truck will they bring?
What will they use to protect your more fragile belongings?
And when will your belongings arrive after leaving the loading location?
There are likely other questions you can come up with on your own, but be sure to ask them prior to hiring the moving company to prevent any last minute problems, or conflicts.
Why choose our long distance moving company services?
It makes for a stress free move.
Save yourself the time, and physical injury.
Ensure a safe and damage free move.
Trust more than 10 years of moving experience.
Fully insured and bonded movers.
Fully equipped movers who arrive on time.
Upfront pricing, and no hidden fees.
Hercules Moving Company is proud of being the most reliable long distance moving company in Canada. We perform the unique packing and wrapping technique while utilizing quality packing and moving materials. Furthermore, we employ solely experienced and highly skilled moving specialists to guarantee the safe and secure long distance relocation of your home or office. Call us today to get a personalized quote and written estimate.