Household Movers
Moving home is one of the most significant steps that you will go through in your lifetime. Hopefully, a household moving day may be a smooth experience of relocating your belongings safely, and in a timely manner, and won't involve any risks or complications. All you need is to find and book a reputable household movers with proven qualifications and that can prepare your household belongings in a careful and efficient manner.
Safe and Efficient Household Movers
On the other hand, the prevalence of horror stories about moving companies does little to alleviate the anxiety of choosing the right household relocation company. As a result, doing your due diligence is the first step toward selecting the best household movers for you! Read on to find out what to look for in household movers, so that your moving experience may be a smooth and a pleasant one.
Why hire Professional Household Movers?
When it comes to hiring the right household movers and packers for the job, it is essential to hire experienced and reputable professionals.
Hiring professional movers will ensure that your belongings are handled carefully, and with the proper technique during the packing and moving process. This will considerably reduce any chance of damage to your belongings, your home, and of personal injury to the movers. Using professional household movers should also ensure timely arrival to the job site and a timely delivery of your belongings. Last but not least, professional household movers should be licensed and insured, and employ movers who are clean, uniformed, polite, and courteous.
All of mentioned above definitely make the household moving costs higher. Consequently, professional household movers may charge more for their moving services, but paying the extra few dollars will go a long way in the end.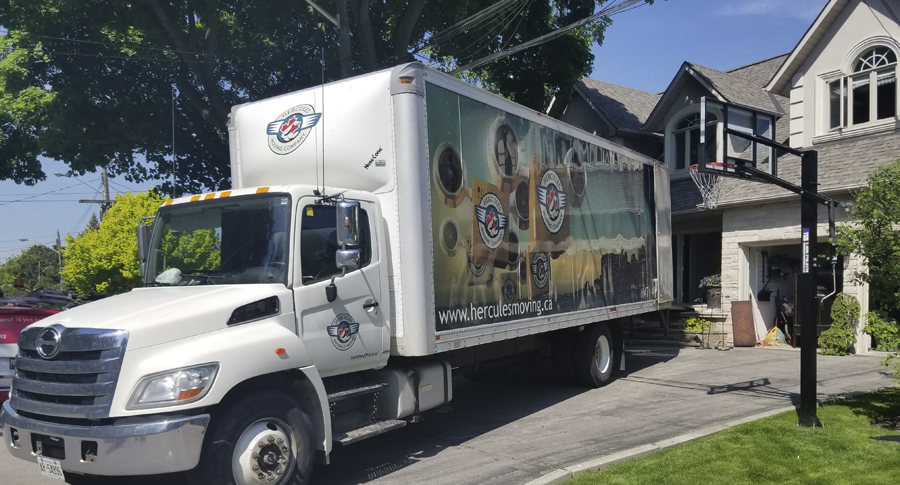 Get Referrals and Recommendations
During your search for "household movers near me" on the web, you will come across bright pictures, promising headlines and inspirational stories. An excellent way to minimize the chances of hiring a less than reputable household movers is to get recommendations from friends, real estate agents, interior designers, even furniture stores and cabinet makers.
Another great way to ensure that you hire a quality moving service is to do careful research online, you can do this by reading household movers reviews posted by previous clients, and checking the company's ratings on Google, HomeStars, Facebook, the BBB and other listings. Once you have narrowed down your search to three household moving companies that you like, make an appointment to meet one of their representatives face to face to get a quote, and discuss any details concerning your move.
Household Inventory List
Once you have chosen the company with whom you'll be working, it is essential to give that company's representative a list of all the items that will be moved to the new home, the items that you plan to move yourself, and those which will stay behind or be sold.
Give the representative a tour of your home on an in-home estimate, and point out all the items which are to be moved, and which things fall under the fragile category, or simply have special instructions. Do not forget to explicitly state if you will need packing services or materials so that the household movers representative can give you a more accurate quote, and the movers can come to the job fully prepared.
If you are planning on doing any of the packings yourself be mindful to label all boxes and bags correctly, you can write the contents of the boxes as well as which rooms they will be placed in upon delivery to your new home. After you have provided local household movers with a full inventory of items to be moved, clearly ask movers to provide you with the cost and time frame of the move.
Have a Moving Plan
Having the right moving plan for your moving day will make the experience of moving even more enjoyable and stress-free. HerculesMoving Company will provide you with a dedicated moving consultant to create a detailed plan for your household shifting services that follows the following steps:
Narrow down the most valuable items to be organized and moved.
If the client has a copy of the floor plan, the household movers representative can plan the move to the last detail including where everything will go, what best to load and unload first, and how to label everything.
Arrange for a packing service with all the appropriate packing supplies, and plenty of time to pack in preparation for moving day
Arrange for disposal of unwanted items, or plan pick-up and delivery of articles for auction, donation, or to friends/relatives.
Schedule and oversee the packing and moving of items on a moving day.
Unpack and arrange the belongings at the new place, and provide other home care services such as cleaning, disposal of waste, shopping, etc.
Another way to reduce the stress of moving is to arrange for moving insurance. This is especially relevant if you have a lot of valuables or precious items which are to be handled by household item movers. You can also choose to pack or move these valuable items by yourself, rather than having the household relocation specialists do it for you. Nevertheless, packing or moving these valuables by yourself can lead to damage, since they were not professionally packed and wrapped; it is always a good idea to order fragile packing service.
Moving and Packing with Hercules
Hercules Moving Company is a full-service household moving company which offers a comprehensive list of household moving and packing services. Depending on whether you are moving household goods across Canada or need local household relocation, we will suggest the best-customized option for packing and moving services for you.
Based on your wishes and preferences we may perform different packing services:
Full-service packing – our professional movers will execute full household packing of your entire home, performing the best packing techniques and using solely high-quality materials.
Partial packing – the option to choose if you want our specialists to pack only items from preferred rooms or any other specific tasks.
Fragile only packing – our movers will carefully pack your kitchen, glass, arts and other delicate items using the most durable packing materials.
Self-packing (DIY) – if you decided to pack by yourself we will be glad to help you by providing quality moving boxes and packing materials.
Moving household goods involves such essential services as:
Household loading - movers will carefully wrap and label all of your possessions before loading and fastening them in the truck to guarantee their safety during the relocation.
Transporting – we've got you covered with specialized delivery transport - state of the art trucks with all possible equipment including dollies, moving blankets, straps and hydraulic lifts.
Unloading – all items are inventoried and labelled, so our household movers will efficiently deliver belongings to the right rooms, assemble beds or other furniture, and provide an exclusive and clean service.
Depending on the type of household moving and your preferences Hercules Moving Company can provide such additional services:
Secure and climate controlled storage - for long and short-term needs that can be customized to your moving preferences.
Moving and storing of household goods (HHG) – some of your bulky items and appliances might be not transportable unless disassembled. Our skilled and qualified movers will assemble and disassemble any bulky items and furniture to make your household relocation a breeze.
Crating – regular packing is not enough for valuable items such as artwork, luxury collectibles and expensive electronics, that's why we offer a crating service to remove the risk of damage to property during the move.
Unpacking – Hercules movers will unwrap all the furniture from shrink wrap and blankets and place your possessions in their desired places. We will also remove your boxes and dispose of any moving debris.
Supervising During Moving Day
Be sure to take some time out during the move to do a bit of light supervision, and make sure that the items are being placed where you'd like them to be. Please remember to be polite, and courteous while supervising the move; you are there to help the movers by guiding, not to dictate, or order them around. If you have done the proper research, the household movers whom you have hired should be trained professionals who are dutiful and know how to perform their jobs, give them space and the respect they deserve.