Interprovincial Moving
If you're planning on moving out of the province in the near future, make sure to consider only the best interprovincial moving companies Canada wide. While most companies can load your belongings into a truck, and drive them to another province, it takes a resourceful and capable company such as Hercules to plan and safely execute an interprovincial relocation like yours. So beware, the concept of relocating families, individuals or employees from one province to another can be more complex from local moving services.
Inter-provincial Moving Services
Hercules is the known as the most reliable and committed among interprovincial moving companies in Canada, along with a comprehensive list of long distance moving services. We move people coast-to-coast, relocate businesses across provinces and do interprovincial shipping as well. Hercules also operates an extensive network of storages across the country and are constantly expanding to better and quicker serve our clients. Hercules Moving Company operates a sufficient number moving vans under its HMC van lines brand, to help it rank as one of the top rated moving companies in Canada.
Our clientele is growing and expanding geographically every single day as a result of our full commitment and desire to be the best in the business.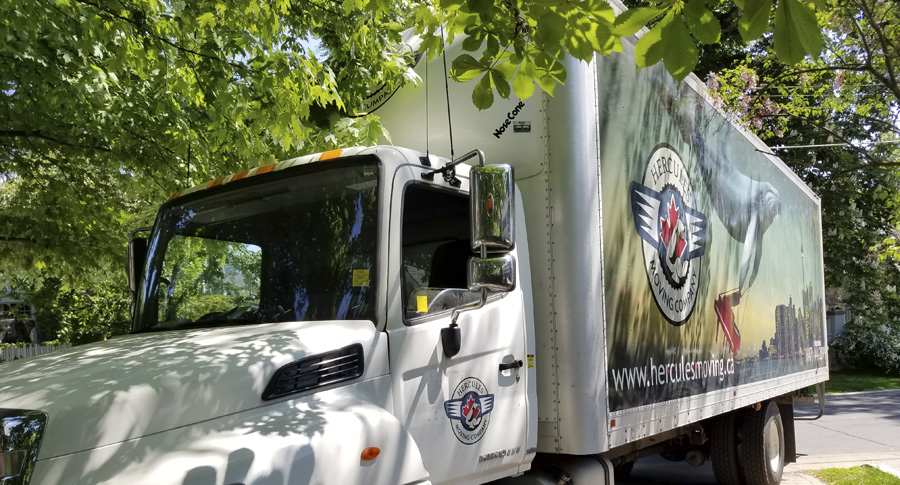 How to Choose an Interprovincial Moving Company
When moving to another province, focus on the careful research and selection of your interprovincial moving company. Here are some established criteria you may pay closer attention to:
Does the moving company provide an exact day when movers will come to pack and transport your possessions, or does the company offer a two-three days window?
The interprovincial moving charge is based on a combination of weight and mileage. Ask your moving consultant how they determined the cost of your cross country relocation, because every company may do it in their own specific way.
A reliable moving company should be responsible for any damage that may occur during the relocation. Ask about the level of liability coverage offered by the potential company, and what are the conditions of item replacement.
Get informed about the payment options that the company provides, it may be cash, debit, credit or check. Moreover, be careful and informed about the company's deposit and cancellation policy, and make sure that these conditions are mentioned in the company's contract.
Inter-provincial Movers
When we recruit our cross provincial movers and drivers, they improve their skills with our video and practical learning courses before they can proceed to the implementation of inter-provincial moving. When our trained movers arrive on site, they will pack and wrap your furniture in the best possible way to prepare it to be transported in moving containers to any province in Canada.
Our nationwide movers guarantee the safety of household and commercial delivery from province to province by providing the comprehensive packing that your belongings deserve. We offer full service packing to prepare all of your possessions, fragile only packing to prepare your glass and kitchenware items to be relocated, or you can self-pack with our materials or your own. Our uniformed cross provincial movers will also help with assembling your furniture or large appliances at no additional cost.
Interprovincial Moving Companies
In addition to a full range of services, Hercules offers competitive pricing for a comprehensive list of additional interprovincial moving services such as tracking of your shipment, moving tips, short-term and long-term storage and warehousing, custom crating of the most valuable and fragile items, and a written estimate. If you are still looking for moving van lines all across Canada, quit searching the Internet for "moving companies near me" or "best national moving companies" because you have already found the one!