Residential Moving
Residential moving companies in Canada are so different that always offer various services for very contrasting costs and it's always difficult to choose which moving company is suitable for you.
Hopefully, a residential moving day may be just an important step in your life, but also a smooth experience in case you've chosen the right moving company. It is important that you give yourself plenty of time to make sure that the moving company you are searching meets all of the criteria listed below.
The moving company should be responsible for the safe and careful relocation of every item from your house or apartment to your new place of residency. As a result, it is crucial that you thoroughly check their reputation before hiring them. Listed here are a few moving tips which will help you narrow down the best long distance or residential moving companies to handle your move in Canada or other cities like yours.
Read reviews of residential moving companies
It's difficult not to come across critical information about all businesses and particularly moving companies. When choosing a residential moving company, be sure to choose only from those companies that have accumulated a considerable amount of online reviews and ratings from previous clients. Some reputable sites and sources for reviews include Google, Facebook, HomeStars, and the Better Business Bureau (BBB). You can also ask for referrals from friends, family, and real estate agents. Make sure that you put some time into research when picking a company for your residential move.
Hire Residential Movers with Experience
This one may sound like common sense, but make sure to choose a residential moving company with plenty of experience. Experienced movers know how to handle your belongings with the appropriate care and attention, which is especially important during a long distance move. A long history of a moving company is also indicative of staying power, which means that the moving company delivers a quality service that has been in high demand for many years. Experience counts for a lot when hiring a residential moving company, so be sure to do your research before settling on any one company.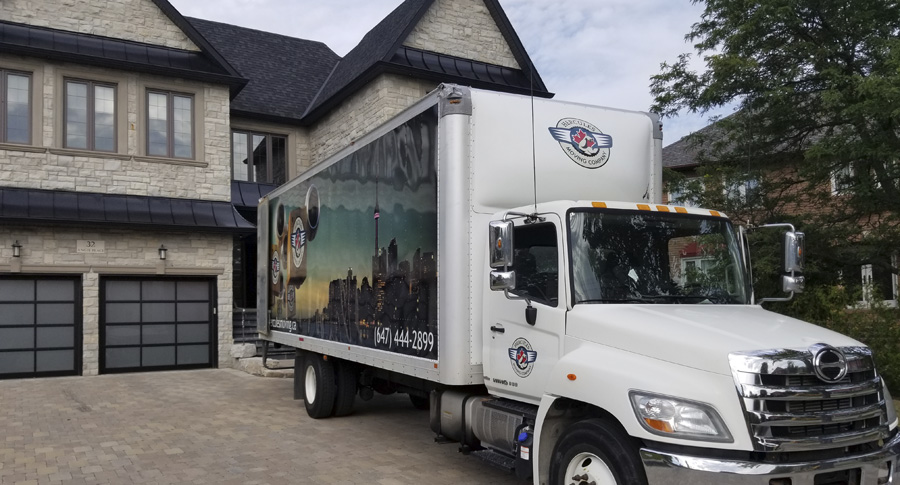 Pay Attention to Details
Before you settle on your residential moving company of choice, make sure to ask questions about the quality of the work itself.
Will the movers be wrapping and padding all of the furniture with blankets, and covering it with shrink wrap?
Will they be using floor runners to protect the floor from dirt and scratches?
What will they use to protect your more fragile belongings?
When will your belongings arrive after leaving the loading location?
There are other questions you can come up with on your own, but be sure to ask them prior to hiring the moving company to prevent any last minute problems or conflicts. Hercules Moving Company is fully bonded and insured company with a long history of operation. We provide top-notch residential moving services performing the unique packing and wrapping technique, and using quality moving supplies.
Make sure your moving is insured
Insurance of your belongings, home and the company's employees is another important aspect that you need to concern yourself with when picking residential moving companies whether for long distance or residential moving. When asking a moving company about insurance, make sure to ask specific questions such as how much they are insured for, how much is the deductible, and if they have had any claims filed against them in the past year. Hiring a fully insured and bonded company will also guarantee that the employees are professional movers and not simply day labourers.
How much residential moving cost?
When choosing residential movers, make sure to ask lots of questions about moving price not to run into any surprises later on. In addition to the hourly rate, some companies might charge an additional tariff for stairs, overtime work, gas or long distance travel, materials such as blankets or bubble wrap.
Reputable residential moving companies will let you know upfront about all of the costs, so be wary of moving companies that try to hide something from you. The price of residential moving services or moving in general also fluctuates throughout the year. Price for moving services is cheaper during the offseason in winter and gets pricier in the spring, so be conscientious about your budget, and all the tariffs involved. However, lower tariffs don't always imply a lower bill. For example piano moving service price can be from 280$ up to 500$ or even more depending on your situation. The best is to get a free quote from piano movers.
Residential moving companies in Canada with low prices are less likely to be professional movers and may try to stretch out time, or inflate the rate halfway through the move. To avoid paying more for residential moving companies than you expect, make sure to get the tariffs you are quoted in writing, and get a contract with all of the pricing written in. Unlike other residential moving companies, our relocation methods are different, unique and built on customers' experience, satisfaction and happiness.
Few more moving Tips before your moving
Make sure that you have made your own residential moving checklist, or give us a call to be informed and consulted.
Ask about plastic moving containers to safely move your belongings.
Make sure that you have packed everything safely for moving.
Ask us about our packers and movers for your residential move.
Hercules Moving Company is one of reliable moving companies across country because we provide the most premier residential packing and moving services in Canada.