Barrie Movers
Finding the best moving companies in Barrie is really the only solution to your big, upcoming move. We know you may be stressed out but with all the professional movers in Barrie has to offer, your move will go smoothly and successfully. Moving is a small word for such a huge undertaking. Luckily, Barrie movers will take all the hard work of relocation off your hands, and all you'll have to do is sit back and relax.
We're proud to provide local moving service in Barrie neighborhoods like:
Waterfront of Simcoe Lake
Tollendal
Cundles
Ardagh Bluffs
Eastview
Holly
Downtown
Painswick
Allandale
Kingswood
And much more!
Barrie moving services are flexible because they know that every move is different. To accommodate your needs, schedule and budget, Barrie moving companies have a wide variety of moving packages to offer. You'll be sure to find one that suits you perfectly. Whether you prefer hands on or hands off approach to relocating your home or office, it really doesn't matter. Movers in Barrie can pack and do the whole move for you, they can help you with partial packing, or leave whole packing job for you and just load your stuff in a van to move it to your new location.
Everyday we're offering best movers with best moving services.
Protection moving risks
Moving your belongings to a new location can involve risks. That's why moving companies Barrie put so much effort in doing things right. Any good Barrie moving company will employ only the best drivers, maintain their vehicles to perfection and have their vans constantly monitored through GPS tracking. You can rest assured when your whole life is in transit, because Barrie movers offer moving insurance to protect you in case of fire, accident.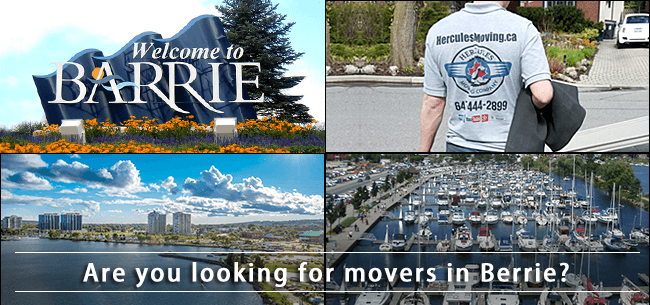 How much movers in Barrie cost?
Relocation cost for your local or long distance move can vary depending on a number of different factors:
Depending on your location and where do you want to move from Barrie;
Whether you need a packing, carrying, loading into the van, carrying amount of the furniture, pianos, household appliances and other belongings from your house and travel fees;
The moving price with Barrie movers can depend whether you're wishing to move studio apartment, two or three bedroom apartement or larger homes;
The moving cost for the local Barrie movers depend on hourly rate. From the movers efficiency will depend how quick and smooth your move will be and how much you will save;
Amount of the vans needed to load all your belongings, from truck rental and it's insurance and etc.
The best and easiest way to get an estimate for the Barrie movers is to request a quote.
Get moving tips from Barrie Movers
Moving large pieces of furniture can involve a lot more than just picking it up and loading it into a truck. Barrie Movers can dismantle and reassemble furniture such as beds and tables if you let them know that it needs to be done in advance. Remember to mention requirements such as this to them when you are planning your move because they'll have to bring the right tools. Speaking of planning, all good Barrie movers has to offer will gladly assist you in planning your move. Free advice is gladly given to make sure your move goes as smoothly as possible.
All good Barrie movers are truly experienced in the business of moving and they definitely have some useful tips to offer. Many small things can be done to make your move easier. For instance, Barrie movers suggest that you use large boxes to pack lighter stuff and small boxes to pack heavy things such as books. It will be easier to handle boxes that are not too heavy and you'll have fewer boxes in the end.
Special moving services
Special moving services such as piano movers Barrie are also available if you have musical instruments or other pieces of furniture that need to be handled by specialists. You can discuss your individual needs with your Barrie movers and they will either accommodate your requests or refer you to specialists who will provide you with more than just two men and a truck Barrie.
Why choose our services?
Save yourself the time and physical injury;
A stress free move;
Fully insured and bonded movers;
Ensure a safe and damage free move;
Upfront pricing and no hidden fees;
Fully equipped Barrie movers who arrive on time;
Trust 10 years of moving experience;
We are different from other residential Barrie movers.
Taking the time to find great movers in Barrie will take a load off your shoulders when you are planning relocation. Barrie movers reviews are useful in deciding which movers to use, and when you find your match, the rest of the process be a snap. Let go of the stress and let them handle it. Make a reservation and our managers will arrange everything for you. Let the professional Barrie movers do the job for you. We'll make the moving experience smooth and pleasant.