Condo and Apartment Moving
Are you or your family planning on moving into an apartment or a condo sometime soon? Accessibility to transportation, retail, and entertainment makes urban living a popular choice for the young and old alike. The demand for urban living has resulted in bachelors, couples and even families moving into apartments and condos with the help of apartment moving services.
One thing to keep in mind when moving into a condo is that property management can have a lot of restrictive condos move in and move out rules. What sets Hercules condo and apartment moving company apart from all the others is that we have expertise in all types apartment move planning and can help you deal with property management of an apartment complex. Our friendly moving specialists will go the extra mile to provide you with a stress-free and affordable high-rise apartment moving services in Canada.
We offer a full range of packing services to ensure the safety of your belongings during a move If you want to do the packing apartment for moving yourself, that's fine with us, we offer an A to Z of packing supplies for sale and delivery to your home.
Condo and Apartment Moving Service
Hercules Moving Company is considered one of the most reliable condo moving companies in Canada. We employ solely skilled and professionally trained movers, who have the right experience in apartment relocation. Our state of the art trucks are fully equipped and have lift gates to transport your most valuable belongings safely. Our condo movers always lay down clean floor runners to keep your high-rise apartment tidy and protected from scratches and dirt. Hercules uniformed movers provide the most premier packing and moving services that Canada has to offer because we perform a unique and time-tested wrapping technique, utilizing clean moving blankets and quality packing materials.
Properly Equipped Apartment Movers
Besides a strong and experienced moving crew, a professional apartment moving company must be equipped with state of the art tools and equipment, which is necessary to get your move done right and on time.
Tools and equipment that you should expect to see from reputable movers include:
Two-wheel Dolly is frequently used to carry more bins, crates and boxes that can be handled manually, and on moves with the long walking distance between points.
Four-wheel Dolly makes it easier and faster for apartment movers to load, transport and unload appliances and furniture.
Liftgates on a truck allow for loading large appliances more quickly and efficiently, and with less exertion.
Up-to-Date Tool Kit that is fully stocked is an essential attribute of experienced apartment movers. These tools will help the movers with the disassembly and reassembly of your furniture and other items.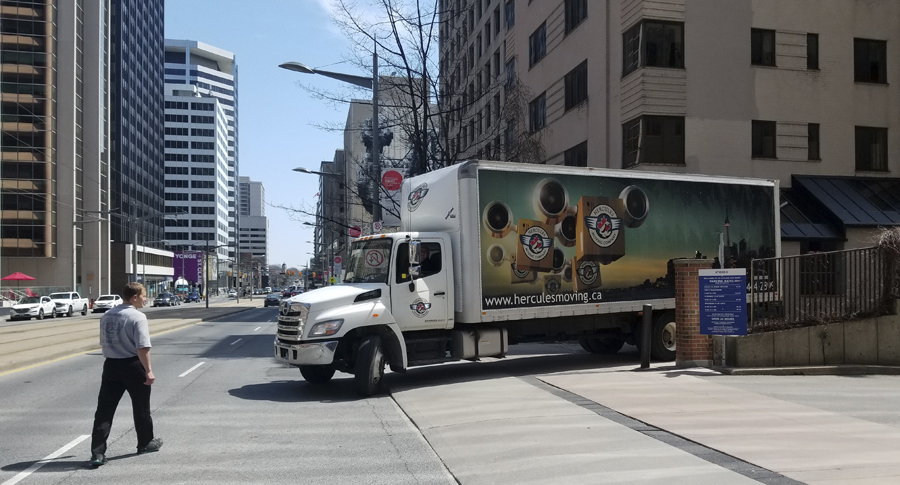 Condo and Apartment Moving Planning
Our Condo and Apartment Move Planning service is perfect for students, retiring seniors and urban employees. Whether you're relocating from a townhouse, dormitory, high rise condominium or a fully detached home, Hercules will assist you to downsize, store, deliver and relocate your whole life when moving to your ideal apartment or condo.
If you're already an experienced condo dweller and are planning a move from a condo in exchange for a better neighbourhood, Hercules can provide you with a customized moving solution. With over a decade of experience moving people in and out of apartments and condos, we'll help to plan your move to minimize the amount of time spent in that dreaded downtown traffic, looking for parking, or navigating crowds to save you time and money.
As people change jobs, downsize, move in with others, or upgrade their furniture, we give them different, personalized moving quotes based on their needs, preferences and budget. If condo moving and apartment relocation begins with careful planning, the planning itself begins with a proper, clear and up-front estimate.
When planning your apartment or condo move, keep in mind that many high-rise apartment buildings have restrictions on the time and day when moving can take place due to the potential loud noise, and interference with foot traffic caused by furniture moving. Some of the larger buildings, especially newer condos, have a specific service or freight elevator, and a moving room with a loading dock to help avoid any interference with other residents.
Preparation for Move
Every one of these amenities can be used only with advanced booking, and this where Hercules Moving Company comes in. We will help you to reserve elevators, loading docks and moving rooms, as well as plan the logistics to ensure that your apartment relocation will be as calm and smooth as possible. Many condo managers require a certificate of insurance and WSIB, but not to worry, just let us know and we'll provide all necessary documentation.
When you call Hercules Condo and Apartment Movers, our highly experienced moving coordinators will ask you several questions to help familiarize themselves with your move and facilitate a successful relocation. They might ask you about the size of your apartment, the contents of your move as well as the amenities and layout of your building to help them prepare a personalized written estimate for you. After preparing an estimate, we will create your customized relocation plan, help you book your elevator and loading dock and advise you regarding the use of stairs and the best time to move your apartment.
If you own any antiques, fine art or other specialty items let your moving coordinator know, and they will suggest the best way to go about packing and transporting your valuables. If you're moving to a condo, we offer such options as moving and packing of fine art and fragile antiques, fine wine collections, delicate instruments, and any high-value possessions that require apartment movers with specialized knowledge and equipment.