Packing and Unpacking
Are you in a search of moving companies that pack for you? Any reputable moving company should offer professional packing services and help with the unpacking after a move. Whether you need packing for moving house, apartment, condo or unpacking assistance for your business in Canada or internationally, Hercules Moving Company will provide professional full-service packing and unpacking with the utmost care to your belongings.
Packing of Household Goods (HHG)
While preparing for your local or long distance move, consider that the packing process is one of the most crucial parts of your residential relocation. Most families pack their goods weeks in advance, while professional packing services will complete such a job in one day. No to mention packing and unpacking can be stressful, exhausting, and time-consuming.
Based on your specific needs, our packers and movers can perform a full, partial or fragile only packing service.
Full-service packing – our movers perform top-notch packing of your entire dwelling using special packing techniques and using solely high-quality materials.
Partial packing – the option to pick what you want our specialists to pack, and what not to pack.
Fragile only packing – our movers will carefully pack your kitchen, glass, art and other delicate items using durable packing materials.
Self-packing (DIY) – if you've decided to pack yourself, our movers will gladly help you by providing our branded quality moving boxes and packing materials.
Our team is proud to provide top-notch household packing and moving services for any size and type of dwelling. Regardless of the volume of your household effects, our packers will treat your possessions with extra care and respect, and they will finish packing at a scheduled time.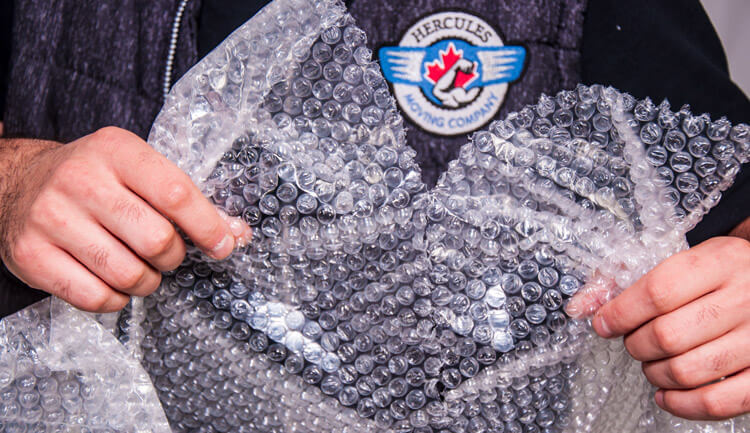 Professional Hercules Packers
Our uniformed, skilled and experienced packers will cover your furniture and large appliances with clean blankets, and wrap them with shrink and bubble wrap. We will also make sure to provide the exact number of packers that your household or business relocation requires. Your possessions will be carefully packed in moving boxes and cartons of different width, height and types. Boxes will be appropriately marked and labeled, which means you have no reasons to worry about your cartons being damaged or over packed. Hercules also operates its own moving supplies store, which means we can provide you with quality moving boxes, plastic bin rentals and other supplies.
Business Packing and Unpacking Services
If you are the owner of a retail store, furniture business or any company that deals with white glove delivery services, Hercules can be your personal assistant in packing, shipping, unpacking and installing your valuable products whether it be furniture, appliances or electronics.
Moreover, our packing and unpacking company also works internationally and can receive, deliver, unpack and assemble your cargo, products or international orders. After the unpacking process, we will complete in setup necessary, and clean up any debris.
Unpacking Services
Hercules Moving Company has also unpacked and organized plenty of household moves, and our movers orient themselves during residential unpacking better than most homeowners do. As a rule, when all belongings and furniture are correctly labeled, unpackers will do their job quickly, and without having to bother the homeowners. After helping you to unpack, we will remove the debris, and will provide cleaning services if you'll need them. You can start with a no-obligation quote and a dedicated moving consultant, which will provide you with all the necessary information about the upcoming relocation and packing tips.