Specialized Moving
Sometimes when you are faced with a commercial or household relocation, you may need to move some valuable and bulky equipment, appliances or household items. It's okay if you can't do the move of cumbersome objects yourself because relocating bulky and high-value items requires a specialist like Hercules Moving Company with a specialized toolkit and moving experience.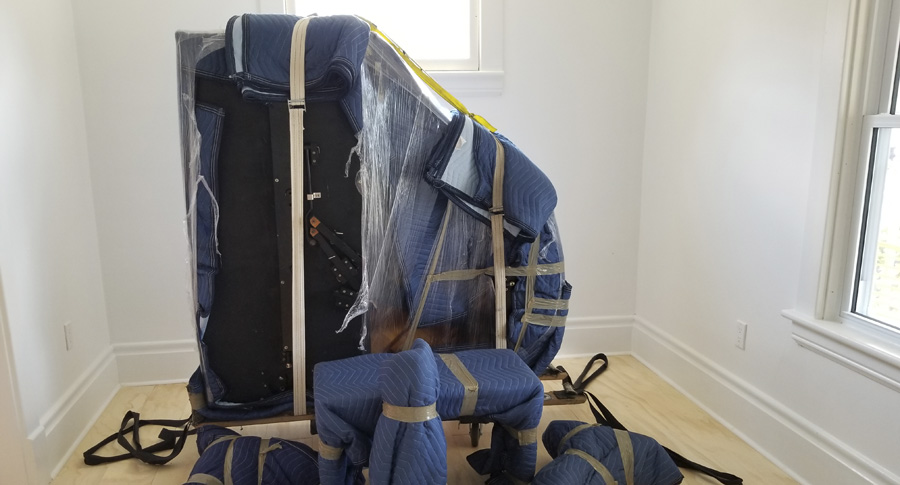 Our specialized movers perform an advanced wrapping technique, use state of the art trucks with lift gates and air-ride suspension that will keep even the most fragile items safe during your specialized move. Hercules Moving Company employs only the best movers with specialized moving experience, so we are ready to assist you and your business with any specialized moving services in Canada.
IT and Computer Moving. If you need to relocate a large number of valuable equipment such as computers, laptops, servers or programming devices, Hercules Moving Company will help you to solve this specialized moving task carefully and quickly by crating each device.
School and University Moving. Hercules Moving Company is proud to assist educational institutions including schools, colleges and universities all around Canada. We will provide the most reliable movers and adjust our trucks for any moving need, from electronics to heavy and oversized equipment.
Lab & Medical Equipment Moving. Hercules movers surpass all other specialized moving companies by providing quality medical equipment relocation. We are experienced in the professional relocation of Research and Development facilities, laboratories, clinics, hospitals and professional medical equipment.
Trade Show Shipping. Hercules Moving Company can be your trade show moving support. Whether you need to transport displays or exhibits, or even the whole trade show – Hercules' specialized movers will deliver exclusive shipping services with unparalleled wrapping, packing and moving.
Museum Moving. Hercules Moving Company employs some of Canada's best specialized movers who proud to work with government orders and historical objects. We will relocate any museum, exhibition and collection, and even provide storage while the museum is undergoing repairs or remodelling.
Library Moving. Libraries, archives and databases are our favourite specialized moving services to work on, our moving company loves to help spread educational resources, and make them accessible to everyone. All of the books and documents will be reliably packed and delivered by our specialized movers.
Fine Art Moving. We assist art galleries in the professional moving of artworks such as paintings, sculptures and a variety of installations. We provide top-notch packing and crating services in a confidential manner, so with Hercules specialized moving services your fine art moving will be safe and secure.
Arcade and Pinball Machine Moving. We understand the value of arcade games and pinball machines, many of which are collectible items. This is why we relocate them with additional care and respect. Whether you are an arcade player or an arcade business owner, you can rely on Hercules Moving Company for protection and peace of mind during arcade moving and pinball relocation.
Industrial Moving. Some specialized moving companies do not provide industrial moving because of a lack of capabilities. Hercules Moving Company is open to your inquiries regarding any industrial relocation task. Hercules movers will relocate any amount of industrial items and will cope with tasks other specialized moving companies couldn't handle.
Film Production Moving. When you need to relocate a film & movie production studio, or you are a location manager and need to move the scenery, let Hercules Moving Company help you with professional packing and specialized moving of all your filming equipment and backgrounds.
Hospitality Moving. Our hospitality relocation teams are glad to assist hotels, restaurants, theatres, living facilities and resorts with services including logistics, installations, warehousing and distribution. If you need hospitality moving services – it is better to deal with one company, and that company is Hercules.
Hercules is your specialized moving company for any relocation service you may require, and if you think that your business is so unique that there isn't a moving company who'll handle it, give us a try!