Office Furniture Moving
Hercules Moving Company is focused on the perfection of the overall customer experience when it comes to office furniture moving. To accomplish this we maintain and continuously improve the level of our professionalism, every day at any moving stage. Thousands of brands, companies and organizations trust our team of reliable and uniformed office movers because we deliver top-notch moving services, beginning with excellent customer relations and finishing with packing, moving, unpacking and installation.
Hercules Moving Company has a solid background in moving large offices, oversized and bulky office furniture items, retail stores and in sizeable commercial moving requests. Hercules Office Furniture Moving is led by some of the most experienced commercial movers in Canada who will not only move but help organize and set-up your office.
There are four main stages of office furniture moving:
Planning
Preparation
Moving
Reassembly
Office Furniture Movers
Hercules Moving Company is proud to employ only highly experienced and skilled office movers. We provide the most reliable office furniture moving services in Canada and have developed our own video training courses to prepare our movers and then practically consolidate their skills before they can begin performing real moving tasks. Our state of the art trucks are completed with up to date office furniture moving equipment, toolkits and liftgates to perform the transportation of your furniture in the safest way possible.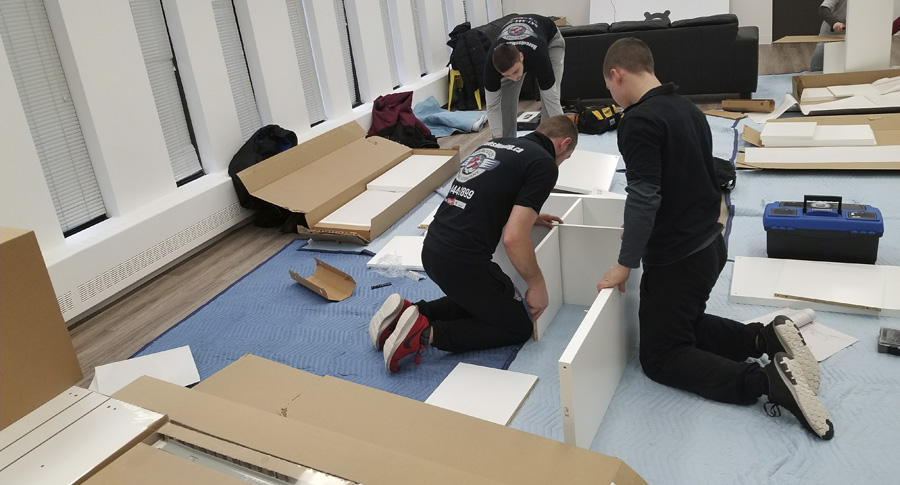 Office Furniture Planning
If you need to relocate furniture from a small or large office space, Hercules will assist in planning, preparing and organizing your office move in a way that is most convenient for you. The Hercules approach to successful office furniture moving starts with a comprehensive evaluation of your office facility and furniture to be relocated, complete planning of the move, discussing different moving options with you, and providing an accurate written estimate.
Apart from project pre-planning, Hercules move management may help you with detailed and professional project management concerning your office reconfiguration and internal office relocation, to generate and finalize a check-list of your office inventory, and to help with new furniture layouts.
Office Furniture Moving Services
Whether it's overnight, over the weekend or holidays, Hercules Moving Company will assist you in your move with minimum interruption to your business. When delivering you the contents of your office, our qualified moving team will help to set-up and reassemble your office furniture at no additional cost. Our skilled professionals will also assist with multipurpose installations at your office, and if you decide to get rid of old office furniture during a move or redecoration, Hercules kindly offers furniture removal services. We can recycle your used furniture or give it to a charity if it is in good condition.
Finally, if you need to store your office furniture somewhere during a relocation or renovation, Hercules Moving Company will gladly provide you with our secure and temperature controlled commercial storage facilities, whether it is for short-term or long-term moving and storage needs.
Office Furniture Moving Preparation
The process of preparation for office furniture moving can be a long and challenging process and must be started in advance and with great forethought. Hercules Moving Company may assist you with any stage of preparation such as relieving the contents of the filing cabinet, desks and bookcases, disconnecting computers and other electronic devices, and the labelling, wrapping and preparation of furniture items for relocation. Our office furniture movers come equipped with quality packing materials including clean furniture blankets, tape, shrink wrap, moving cardboard and bubble wrap for the most fragile and valuable of items. In addition to coming equipped with quality packing materials, our movers come equipped with the knowledge and experience in using these materials.
Furniture, Fixtures and Equipment (FF&E) Consolidation
The Hercules office moving team provides knowledgeable FF&E consolidation, storing, distributing and installation of your equipment, furniture and fixtures. Our FF&E movers are experienced in moving retail and telecommunications companies, hotel & hospitality businesses as well as medical & lab equipment. Our FF&E installation includes hanging of artwork and mirrors along with providing the highest level of support and long-term and short-term storage options, in other words, dedicated warehouses for all our commercial and corporate clientele.