How to Pack Folded Clothes for Moving?
Packing clothes for moving is never an easy task. Gathering all the clothes, sorting them out, and finally arranging them so you can find them again at your new place can cause a loss of a thousand nerve cells. Hercules prepared a guide on how to pack clothes so they don't wrinkle during the move.
It is in our best interest to show you the easiest way to pack folded clothes for moving and have a great experience. We will not only share packing tips and moving hacks but also help to move. Hiring professional packers is always a choice that you can make to save your time. Fill up the quote to get your free estimate and your moving coordinator will contact you shortly.
What clothes to pack folded?
The safety of your belongings directly depends on your knowledge of fabric specificity. Some methods are best used for soft materials like Jersey, Velvet, Cashmere, Silk, and Satin, while Denim, Leather, and Wool are in a tandem with each other. It is crucial to educate yourself before packing clothes for a move as it might either save or ruin your possessions.
Another important detail would be the type of clothes. In the article How to pack hanging clothes for moving we determined the clothes are the best to move on the hangers. Thus, now let's dive into the clothes that are best to move folded wrinkle-free.
Types of clothes that are better to pack folded:
Pants/Jeans and shorts
T-shirts and long-sleeved.
Socks and Underwear.
Pyjamas.
Accessories (scarves, belts, hats, etc.).
Sweaters/Hoodies
Folding methods
What is the best way to fold clothes to prevent wrinkles? Hercules has found the answer, so you don't have to. We have compared and determined the most efficient ways to fold clothes for moving:
Flat fold. The flat fold is a method that is commonly used for storing the closet on a daily basis. This method is fast and does not require much knowledge, however, is not the best when moving. It will not prevent clothing from wrinkles and creases fully.
If packing clothes using the flat fold method, be ready to get more boxes as it is not space-efficient. Garment placed on top of one another will leave gaps and decrease accessibility.
Steps:
Grab the shoulders
Flip the sleeves back
Fold in half

Military roll. Military roll is an ideal method for packing jeans and casual fabrics without wrinkles. Rolling clothing this way provides a frame and does not crease or crumple. Military roll is extremely practical to save space when packing clothes in boxes.
Steps:
Lay the garment on the straight surface
Fold the edge inside out to 5 cm
Fold the sides and the sleeves inside by 1/3
Start rolling for the other side tightly smoothing the wrinkles
Pull the edge fold over the roll and secure it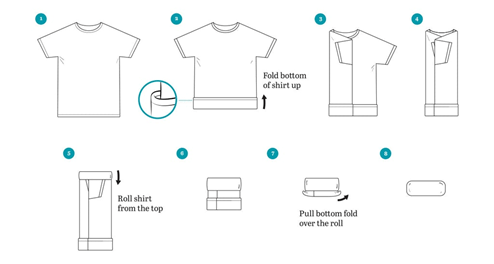 Bundle packing. The ultimate wrinkle-free folding method that everyone should know when wondering how to pack shirts without wrinkles when moving. In the bundle packing method, the goal is to create a soft flat central core, layering your clothes and firmly wrapping around it, flattening the fabric along the way.
This easy packing method allows you to pack clothes space efficiently in order. You can use it to pack your essentials in a suitcase. A great way how to wrap clothing without a box.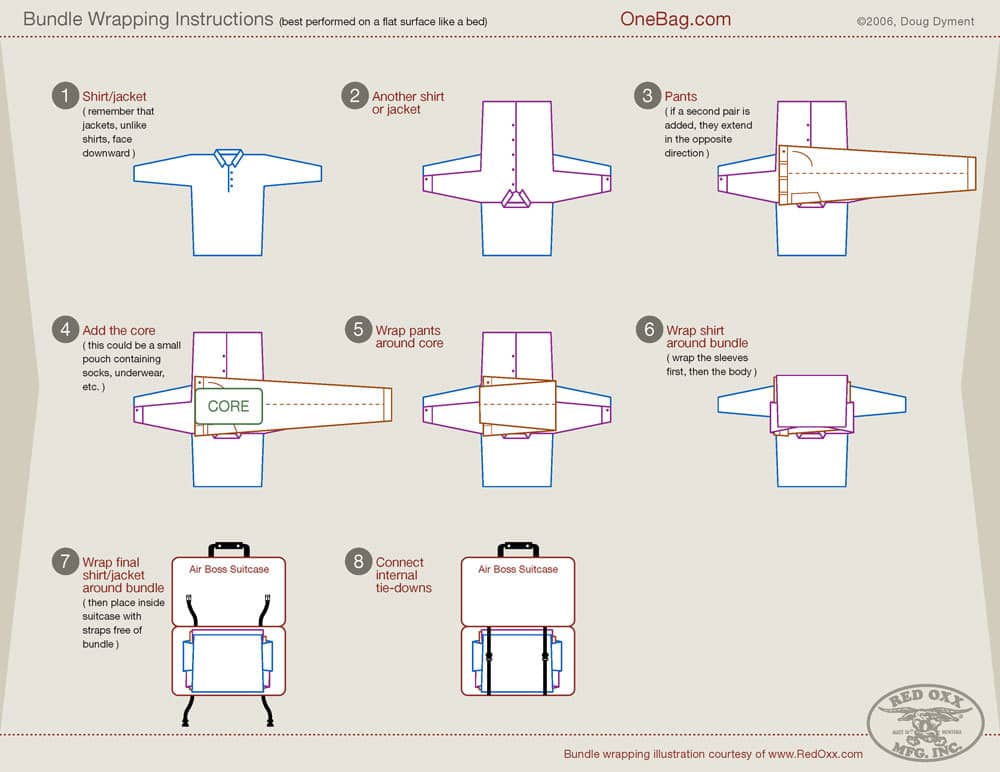 KonMari folding. Marie Kondo has developed a method of folding for almost every item of clothing, down to the smallest. Naturally, suits, dresses, coats, and jackets have to be hung on hangers anyway. But everything else is quite realistic to store inside the boxes.
We are not talking about the usual stacks, but about stacking things vertically. Vertical means to "put" the item folded in a rectangle on the "rib", whether it is a short top or a sweatshirt. It can be done with anything, regardless of its material and shape! Read more about the KonMari method here.

Ways to transport folded clothes when moving
Cardboard Boxes. The best way to pack folded clothes for moving must be using moving boxes. You can easily fit most of your wardrobe using one of the folding methods and be sure that your items will have ultimate protection when moving across the country.
Using a moving box to pack folded clothes allows you to easily categorize and unpack your belongings in your new space. Make sure not to overfill the cardboard box. It can compromise the integrity and stability of the box as you carry it and cause injury to the movers trying to lift it.
Label each box and write down a list of items and boxes that you are relocating, thus, upon arrival, you can easily identify needed possession.
Browse Moving Boxes Online to find the best box for your needs.
Suitcases. The suitcase can be a great solution for packing clothes at no additional cost when moving. The process would be somewhat similar to packing for travelling and it will be easily identifiable inside the moving truck.
However, a suitcase will not fully protect your items from humidity. There are quite a few openings that will not prevent liquid from getting in. To preserve the clothes use packing cubes.
Dresser Drawers. Storing some clothes in a dresser for a move is a way to save some space, however not so practical. Do not overfill the dresser, it can cause difficulties for transportation and damage the dresser itself.
It is not the safest way to move your clothes as they get shifted around and get lost in holes and panels. If you choose to use a dresser to pack your folded clothes for moving, make sure there are no valuables in it and all the drawers are secured.
Packing folded clothes tips:
The garment should be well ironed
Do not fold things while they are warm from the iron, let the fabric cool down and the likelihood of folds will be much less
Folding clothes, try not to make vertical folds in the middle - in this form they are most noticeable
In stacks, place heavier and denser items on the bottom and lighter items on top.
Moving is always associated with uneasy feelings. On the one hand, there is a pleasant experience in anticipation of a change of home. On the other hand, you know that someone has to move it. To save yourself from these worries, we recommend hiring professionals who will take matters into their own hands.
Hercules can help to have a better idea of how much it will cost you to move your house for FREE. Fill up this Quote Now!