Guelph Movers
When you're moving to Guelph in Ontario the best and easiest way to move is with Guelph movers that can help you with full moving service with highly trained, professional movers that can move your belongings from point A to B with ease and comfort. While you'll be focused on your work we'll do the hardest moving and packing work and offer trusted storage service for you. Hercules Moving Company is award-winning Guelph movers with highly trained, professional Guelph movers that can move your belongings with ease and comfort. Out of all the Guelph moving companies we have the best reputation for fast, safe, and most trusted moving service. Look yourself for Guelph movers' online customers' reviews.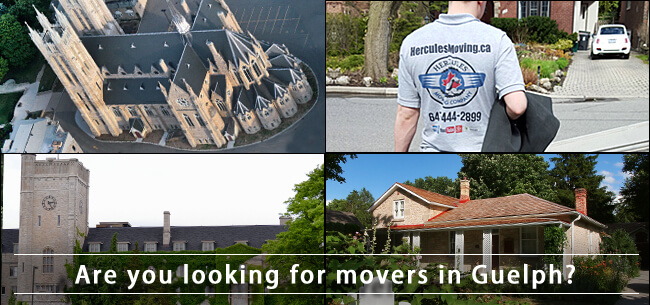 Why worth moving to Guelph?
Guelph is "The Royal City" located in a western part of Ontario. This beautiful and clean city is, with no doubts, one of the best places to live in whole Canada. Guelph offers its inhabitants developed infrastructure, cultural venues and a range of entertainment facilities, such as market, mall, breweries, restaurants and bars. There a lot of cultural sites to visit, some of which is Art Gallery of Guelph, Basilica of Our Lady Immaculate and an arboretum. The last one is located on a base of the University of Guelph, some programs of which are rated as best in the world!
Relocating to Guelph is a great idea, and if you searched for experienced Guelph movers today, our Hercules Guelph Movers Team would like to help you choose the right services and to provide an excellent customer service.
Packing and Unpacking
If you don't want to pack and unpack all the boxes, or you just don't have time for it, our professional movers in Guelph can help you with our packing and unpacking services. Having a strong experience in packing, our Guelph movers will bring all necessary moving supplies, pack all of your belongings and save your priceless time. Our packers provide high standard packing services so you can be confident in safeness of your beloved belongings.
Household moving in Guelph
Moving companies in Guelph offer a broad selection of Guelph moving services so you may choose from residential moving, corporate relocation and Guelph piano movers. Of course, home moving is the most demanded type of local moving services.
When you leave a quote or book your Guelph moving company via telephone call, our customer representative will help you with a free estimate. On the day of the move, our Guelph movers come to your place with a truck, wrap all of your furniture and other belongings to guarantee safeness during the moving, and relocate them to your new location. Our hard work movers are professionally trained and perform only great experience and stress-free Guelph moving.
Moving and storage
In case you need to store any items in a storage, Hercules Moving and Storage Company in Guelph can provide you with both short term and long term storage services. Moreover, we can help you with picking up your items from your place, wrapping all of the belongings and moving them right to our storage. After a required period, we can deliver those items back to your site. Our warehouse is privately owned, with a security system and climate control, which guarantees your belongings stay safe in high standard conditions.
Corporate relocation
Not all of moving companies Guelph can make a commercial relocation because it requires the availability of professional tools and solid training of movers themselves. Our Guelph moving company disposes of a wild range of different techniques and tools, as well as our own box and supplies store. Our Guelph movers have experience in corporate relocation in such industries as restaurants, telecommunications equipment companies, furniture stores and film studios.
If you need to relocate whole business or manufacture, or you just need an office move - our Guelph movers are ready and will be happy to help you with it.
Long distance moving
Most moving companies do not provide long distance moving services. Our local mover in Guelph has capabilities and experience in long distance moving. If you plan to move from Guelph to Vancouver, or from/to any other provinces, we will help you with your relocation, providing such services as packing, storing, and long distance moving as it is.
Piano movers Guelph
There are not too many Guelph piano movers. Moreover, Hercules Guelph movers have a professional crew for piano moves. Our most reliable guys are the best piano movers Guelph. They perform the unique wrapping technique using blankets and shrink wrap to cover and protect parts of your upright piano or grand piano. Our piano mover Guelph may become a part of your home relocation.

How much moving cost?
Relocation cost for your local or long distance move can vary depending on a number of different factors:
Depending on your location and where do you want to move from Toronto;
Whether you need a packing, carrying, loading into the van, carrying amount of the furniture, pianos, household appliances and other belongings from your house and travel fees;
The moving price with Guelph movers can depend whether you're wishing to move studio apartment, two or three bedroom apartment or larger homes;
The moving cost for the local Guelph movers depend on an hourly rate. From the mover's efficiency will depend on how quick and smooth your move will be and how much you will save;
Amount of the vans needed to load all your belongings, from truck rental and it's insurance and etc.
Save yourself from physical injury and your own expensive time;
A stress free move;
Ensure a safe and damage free move;
Fully insured and bonded movers;
Fully equipped Guelph movers who arrive on time;
Upfront pricing and no hidden fees;
Trust 11 years of moving experience;
We are different from other residential Guelph movers.
As there are many different moving companies, you should only choose reliable movers and the best way to find such information is to read Guelph movers reviews online. With the help of best Guelph movers, your move will be handled with efficient and friendly service. Once everything is in the hands of a good Guelph moving company, you can relax about your relocation process. Our local moving services are also available in such cities as Kitchener, Cambridge, Hamilton, Waterloo and suburbs. Hercules Moving Company Guelph is a certified member of "Move for Hunger" charity and is listed in most local business bureaus, which means we are the right local movers to choose and trust. The best and easiest way to get an estimate from Hercules Moving Company Guelph that is located on

165 Terraview Crescent #43, Guelph, ON N1G 5G7

is to request a quote.