Piano Movers Vancouver
Taking the time to find the best piano movers Vancouver can offer may seem like a hassle at first, but it will be worth every minute you spend searching for good and reliable piano movers. The services of the best piano movers in Vancouver will save you time, money and frustration. Piano Movers are the most reliable and most durable movers who specialize in moving weighty but valuable items.
Hercules Piano Moving Company began its journey 12 years ago in Toronto, the capital of Ontario, and has since been serving Toronto and the GTA by providing high end piano moving services. Our piano movers began with a fruitful collaboration with Merriam School of Music and Remenyi House of Music and have since expanded all over Ontario and to providing premium full moving services. We have been reassured by many of our clients that no one else offers such high quality piano moving services, certainly it is due to our professional wrapping technique, invented and time-tested by Hercules Piano Movers Vancouver, and careful transportation of specialty items such as pianos, art, antiques and designer furniture.
We listened, and we have heard the demand for our high quality moving service all across Canada, from the East Coast to Vancouver Island. We have now expanded to the Metro Vancouver Regional District with Hercules Piano Movers Vancouver to offer a broad range of moving services including:
Piano Storage;
Safe Moving.
Grand piano moving;
Upright piano moving;
Specialty instruments moving;
Heavy appliance moving;
Piano Movers Vancouver serve:
North Vancouver
West Vancouver
Burnaby
Surrey
Richmond
Delta
Coquitlam
New Westminster
East Vancouver
Langley
Abbotsford
Squamish
White Rock
Port Coquitlam
Maple Ridge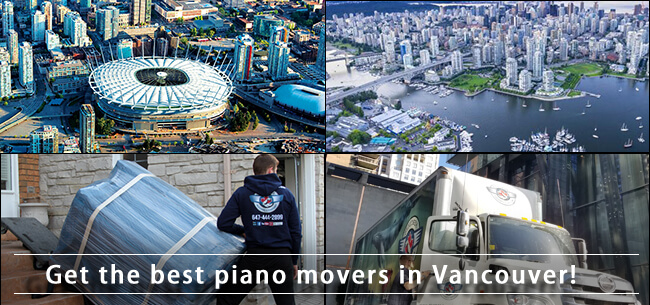 Piano Moving Vancouver
If you recently bought a piano for your child, or you are simply relocating your home and have an instrument in it, you will definitely need specially trained piano movers Vancouver Metropolitan Area to guarantee the safety of your instrument and to prevent any damages, even the smallest scratches or dents. If you are moving a piano within North Vancouver, West Vancouver or any Vancouver suburbs, it is extremely important to choose the right piano movers Vancouver, who are highly experienced in piano moving and have all of the necessary equipment. Only professionals may ensure that your beloved piano will arrive safely.
Moving Upright and Grand Pianos
Discovering the world of pianos, you can find many different piano types, but there actually are two main categories: Vertical Pianos and Horizontal Pianos. You can simply distinguish them by checking the position of their strings.
Vertical Pianos are usually between 3 feet and 5 feet in height and can be sub-categorized into four types: Spinet and Console pianos, which are relatively small, Studio pianos with middle-range sizes, and a largest vertical piano – an Upright piano. An upright piano is considered as a classic piano type and is the tallest amongst all the vertical pianos, with the height ranging between 50 inches and 60 inches.
Horizontal Pianos or Grand Pianos are elongated due to the placement of their strings. These instruments generate louder, more saturated and brighter tones. Another distinction is in the more sensitive responsiveness of keys. There are far more types of horizontal pianos, but the most commonly used are:
Baby Grand piano, which is very popular among the piano enthusiasts and lovers due to its aesthetics, sound quality and relatively small sizes, which are in a range between 5 feet and 5.5 feet
Medium Grand piano, which is larger than a baby grand, and its size is approximately 5 feet 7 inches.
Parlour Grand piano, which measures from 6'8" to 7'3" and produces a spectacular sound for any home lucky enough to have one of these beautiful, handcrafted pieces.
Concert Grand piano, the most massive instrument of all pianos, with the size of approximately 9' long, these pianos most often populate the stages of concert halls, musical conservatories and philharmonics; only organs may be larger than this masterpiece.
Besides the dimensions, all of the pianos may vary regarding the number of pedals and other structural details. There is also an additional sort of piano – player piano, which is a self-playing piano with standard upright piano dimensions, but the weight of which is much bigger of most grand pianos.
Piano Movers in Vancouver
Moving a piano is a very responsible task for all movers, because the piano may cost a great deal of money and, moreover, it has a strong emotional and sentimental value attached to it. That's why it is critically important for movers to be prepared for every possible move. Hercules Piano Moving Company Vancouver has a group of experienced and time-tested movers, who have passed a training course to prove their qualification.
After all, if residential moving requires traditional packing materials, some of which are boxes and tape, piano moving is impossible without a necessary toolkit and specialized equipment, as well as the professional skills of a piano mover. Don't risk your valued instrument and don't try to move it yourself, because it may weigh up to 1300 lbs. and the damage of the piano, in this case, is very possible. We equip all of the professional moving tools to help safely move all of the piano types listed in this article. Using time tested piano moving techniques; our piano movers will gladly and reliably move your upright piano or your grand piano.
Piano moving cost
Our company prides itself on never surprising clients with hidden fees; that is why we don't provide a price estimate unless we know all details about the move. It is always better to call a moving company to get your free quote and mention such details as:
The number and height of stairs
The presence of difficult turns and doorways;
The type of piano;
The type of terrain;
The distance between the two locations.
Whether it goes upstairs or downstairs
Usually, 2 to 4 piano movers are needed for a move, depending on a type of the instrument. Hercules Piano Moving Company Vancouver provides both local piano moving and long distance moving. Make your life easier and hire professional piano movers Vancouver can offer today.

Piano Storage Vancouver
Our professional piano moving services in Vancouver also include Piano storage service. If you need to store your piano in Vancouver Metropolitan Area for either the short term or the long term, or you just don't know the exact period, we will gladly help you to store your piano in our piano storage in Vancouver. Our professional Vancouver piano movers will pick your musical instrument up, take it to storage and then deliver it back to you. There is also the option of piano disposal, in case you don't need your piano anymore or it takes up too much space. Some of the pianos may be used for charity in this case.
Finding excellent piano movers Vancouver will go a long way in saving you time, money and frustration during your moving process. Professionals will get the job done faster and with less risk breakages, which will get you settled in at the new location happily and relaxed. Reading through a few piano movers Vancouver reviews may help you choose the best of the best to ensure a happy moving experience.
With us You can rest assured that Vancouver piano movers know what they are doing and will make every effort to move you quickly, efficiently and without much effort.
Why choose our services?
Save yourself from physical injury and your own expensive time;
A stress free move;
Ensure a safe and damage free move;
Fully insured and bonded movers;
Fully equipped piano movers Vancouver who arrive on time;
Upfront pricing and no hidden fees;
Trust 10 years of moving experience;
We are different from other residential Vancouver movers.