Edmonton Movers
Are you looking to move your home in the near future with Edmonton Movers or on your own? But why invest that much and effort if you can take care of a whole moving process in just one easy step: by finding excellent movers in Edmonton. With the best movers in Edmonton on your side, the rest of the process can be as easy as one, two, three, and you won't even have to lift a finger whether you're moving within Edmonton, or moving to Edmonton. Movers can do all of the work for you and local professional movers in Edmonton will be able to provide a variety of moving-related services that can be adjusted to meet your specific needs. No move is too big or too small and you can rest assured that house movers Edmonton know the best ways of getting your things safely to your new location.
We're proud to provide local moving service in Edmonton neighborhoods like:
Strathcona
Glenora
Ritchie
Westmount
Oliver
Garneau
Highlands
Bonnie Doon
Crestwood
And much more!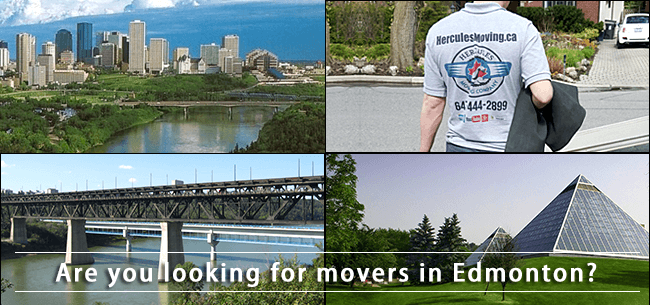 Moving services in Edmonton
Even though Edmonton movers do all the work, you remain in complete control of your moving process. You can choose how much of the work you prefer to do yourself, and how much of the work will be done by your Edmonton mover. Whether you want them to do absolutely everything or just the bare minimum is completely up to you. You can also choose a partially involved process where you can let your Edmonton movers know that you'll be doing some of the work while the moving company in Edmonton of your choice will be responsible for the rest. Excellent communication is key to a great move and your Edmonton movers will work with you to create a moving plan that will let everyone know what they should do to stick to the schedule.
Edmonton movers can provide every moving related service you need, including moving and storage in Edmonton, and you are in charge of how much they do. Edmonton moving companies can even send packers to your house to have everything packed up professionally. Edmonton movers can also provide packing materials, sturdy reusable moving containers; they can move vehicles to your new location, offer storage solutions and unpack your belongings at the new location. The best movers Edmonton has to offer will also be able to provide a pre- and post-move cleaning service to make sure that both the old and new locations are in their very best condition.
Few great moving tips from Edmonton Movers
With years of moving, Edmonton movers have gained a lot of experience. Local movers Edmonton will consult with you, free of charge, to discuss your move and offer you advice on practices that can help the process run smoothly and without any hassle. Moving services Edmonton provide excellent value for money, and even cheap movers Edmonton take care in providing efficient, friendly and professional service to make your move as easy as possible.
Before the move
Your Edmonton movers will remind you of the regulations you need to check before moving day. Your new location may have specific service gates that need to be used and complexes often have moving regulations. Make sure if you need a special permit and what gates, entrances, and lifts should be used. The best moving companies Edmonton has will take care to help you move as quickly as possible, and if everyone sticks to the schedule planned in your moving plan, you should be able to complete your move quickly and efficiently without causing too much trouble to neighbours.
How much does moving cost in Edmonton?
Relocation cost for your local or long distance move can vary depending on a number of different factors:
Depending on your location and where do you want to move from Edmonton;
Whether you need a packing, carrying, loading into the van, carrying an amount of the furniture, pianos, household appliances and other belongings from your house and travel fees;
The moving price with Edmonton movers can depend whether you're wishing to move studio apartment, two or three-bedroom apartment or larger homes;
The moving cost for the local Edmonton movers depend on an hourly rate. From the mover's efficiency will depend on how quick and smooth your move will be and how much you will save;
Amount of the vans needed to load all your belongings, from truck rental and it's insurance and etc.
Why choose Hercules Moving Services?
Save yourself from physical injury and your own expensive time;
A stress free move;
Ensure a safe and damage free move;
Fully insured and bonded movers;
Fully equipped Edmonton movers who arrive on time;
Upfront pricing and no hidden fees;
Trust 10 years of moving experience;
We are different from other residential Edmonton movers.
With the help of great Edmonton movers, your move will be handled with efficient and friendly service. Everything is in good hands moving companies Edmonton, and you can relax about your relocation process. Reading through a few Edmonton movers reviews may help you choose an excellent moving company but remember to leave them a good review if you are satisfied with their services. Now relax, your move is in good hands.