Toronto Movers
Hercules Moving Company are award-winning Toronto movers with highly trained professional movers that can move your belongings from point A to B with ease and comfort. While you'll be focused on your work we'lldo the hardest moving and packing work for you. Out of all the Toronto movers, Hercules Movers in Toronto has the best reputation for fast, safe, and most trusted moving service.
We're proud to provide local moving service in Toronto neighborhoods like district like:
Distillery District
Chinatown
Yorkville
Trinity - Bellwoods
Downtown Toronto
Harbourfront
Forest Hill
St. Lawrence
Leslieville
Bloor West Village
Centre Island
Regent Park
Queen Street West
The Beaches
Little Italy
Church and Wellesley
Entertainment
Liberty Village
Don Mills
Yong - Eglinton
Lawrence Park
And much more!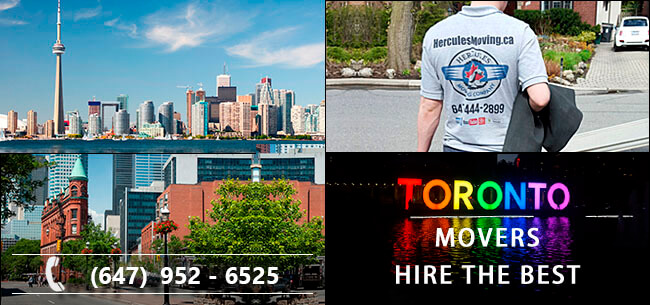 Moving services in Toronto today
Moving services today are as popular as they were 20 years ago, while an increase in technologies-related services is playing a bigger role in helping customers find the best moving services. Professional Movers Toronto main task is to help people to relocate their furniture and other belongings in the fastest and the most secure, comfortable way possible. The main focus of Toronto movers is on their moving and packing services – one of the best Toronto moving companies have got good experience behind them and know how to make their clients happy, a fact that you can check with good moving reviews on Canada's largest and most trusted source for connecting with home professionals such as HomeStars, Yellow Pages, and social networking platforms like Google+, Facebook and Twitter. Today Toronto movers have to work even harder to compete with their many competitors around which offer moving services in the most populated city in Canada.
Professional movers in Toronto
There are many various moving companies to choose from in Toronto. There is no doubt, that surviving in such a big city as a company requires quick and strategic thinking. Each of them offers more and more services to keep clients interested in their moving services. Some of the moving companies offer packing services, other companies don't bother themselves with such services or even offer free packing services in order to attract even more customers.
How much do movers cost in Toronto?
Relocation cost for your local or long-distance move can vary depending on a number of different factors:
Depending on your location and where do you want to move from Toronto;
Whether you need a packing, carrying, loading into the van, carrying an amount of the furniture, pianos, household appliances and other belongings from your house and travel fees;
The moving price with Toronto movers can depend whether you're wishing to move studio apartment, two or three bedroom apartment or larger homes;
Themoving cost for the local Toronto movers depend on an hourly rate. From the mover's efficiency will depend on how quick and smooth your move will be and how much you will save;
Amount of the vans needed to load all your belongings, from truck rental and it's insurance and etc.
Moving to a new place
The best Toronto movers near you will help to move anything from your current to your new home. Experienced Toronto movers will do the packing differently according to the furniture that is being moved. To move belongings safely from point A to B, sometimes storing and packing different belongings have to be different and even separate. If you'll decide to do the packing yourself get moving tips from best Toronto movers and enjoy a safe move.
To find out what services would be the best to use try a google search for the best Toronto movers reviews that can help you pick the right Toronto movers. Or even better try surfing social networks like Facebook andHomeStarts which can offer you a better overview of every moving company.
Moving tips
As there are many Toronto movers around, it is important to choose carefully, so that the moving could be completed in the most reliable way possible. Cheap moving service is not always the best. So, there are a couple of positive and negative propositions about moving companies, which will help you to decide who to choose.
The most positive thing about moving companies is that they will take care of moving the furniture to your desired location in the fastest and safest way possible. These services can sometimes be cheap, for example, the average cost being $25 per hour for a single mover for local moves. Keep in mind that the fewer movers are doing the work, the longer it will take to complete the move, and the overall moving cost can be even higher than expected. So, choose wisely.
Although moving services are very useful, you have to be careful when choosing the company, you'll be working with. There are many movers, which will not take a proper care of your furniture and move your belongings for as long as possible in order to charge more money. But these are the worst case scenarios which can happen with cheap movers. If you choose carefully, you'll get the best Toronto movers service and will enjoy your move.
Why choose Hercules movers Toronto?
Save yourself from physical injury and your own expensive time;
A stress free move;
Ensure a safe and damage free move;
Fully insured and bonded movers;
Fully equipped Toronto movers who arrive on time;
Upfront pricing and no hidden fees;
Trust 11 years of moving experience;
We are different from other Toronto movers.
As there are many different moving companies, you should only choose reliable movers and the best way to know is to read Toronto movers reviews online. With the help of best Toronto movers, your move will be handled with efficient and friendly service. Once everything is in the hands of a good Toronto moving company, you can relax with your relocation process. Reading through a few Toronto movers reviews may help you choose an excellent moving company but remember to leave them a good review if you are satisfied with their services. The best and easiest way to get an estimate from Toronto Movers - Hercules Moving Company Toronto that is located on

25 Wood St #1006, Toronto, ON M4Y 2P9

is to request a quote.