Packing and Moving Companies
When you decide to move to a new home, making a choice on packing and moving companies can be an anxious experience. Regardless on whether the company of your choice is based on Google reviews or recommendation from a family or friend, we highly recommend doing your own personal research.
You can always get the quote from many packing and moving companies so you will always pick the best deal, but not always the lowest price will meet your expectations, that's why choosing right moving company is very important. Hercules Moving Company is one of the leading competitors in the moving and packing industry. We pride on our professional packing and moving services and it did not go unnoticed, as we proudly continue to receive HomeStars awards.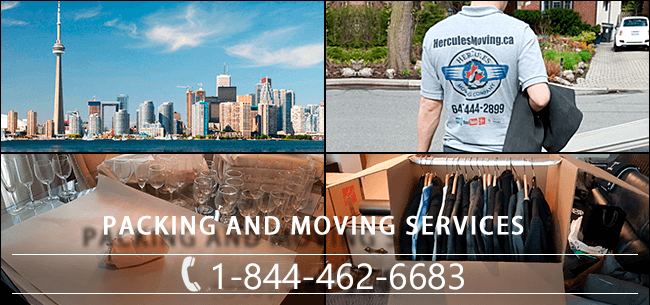 Sometimes getting any of the packing and moving companies that are based near you is not always the best choice. That's why the best is to do little research online and get a preview about the company reviews that you're planning to work with.
It is often that preparing and packing for a move is more stressful than the actual moving process. If you find yourself having a hard time packing, we would be happy to help. Our packing and moving specialists are highly trained to professionally pack any home. We have all the necessary packing and moving supplies needed to ensure even your most fragile items are delivered home safe. Kitchen packing is one of the most comment requested service we receive. If you are unsure how to properly pack kitchen essentials, we have the skillset to keep your grandmother's dish set and other breakables safe.
Another common request we receive is single item pack, if you need professionals to help you pack and move your specialty item such as a piano, antiques or an heirloom item that requires unique packing and moving. Perhaps, you also need assistance packing your wardrobe items; we have a team of friendly and knowledgeable staff to neatly pack your clothes in our specialized moving boxes. Regardless of loose and hard to pack items, packing electronics or artwork, antiques or a safe, Hercules Packing and Moving Company got you covered. We offer a range of services that can be customized to any customer, regardless of the size of the move or location. Our packing services ranges from a single item pack to packing all of your entire goods, we are available for both local and long distance moves. You have our word that we will put the most effort into packing and delivering your belongings safely. Our packing services will help you save time and money, as well as give you a piece of mind.
Our team of packers and movers can offer you solutions that will help with anything that relates to personal belongings protection, choosing appropriate boxes size, and also a packing and moving service. We know how important this step is for you and that you trust us, not other packing and moving companies, to help you get there, therefore we will do our ultimately best to satisfy your needs, build a good relationship and maintain our reputation.
Creative and efficient packing
We know that packing personal belongings can look like tedious taste but we actually find this job exciting and challenging, it allows us to be creative. We're different than other packing and moving company that's why our team not once have been awarded one of the best packing and moving companies that can provide you with all the essential supplies including appropriate boxes for all of your items, yes we have boxes even for your lamps. Our boxes are easily put together and taken apart. Proper moving supplies not only speed up the moving process, but they are easily and compactly fit into a truck, as well as protect your things from falling out, therefore giving you that additional protection during the move. Appropriate packing prevents incidents from occurring for the items packed and yourself.
Packing tips
Choosing the best packing and moving company will save you lot's of time, and you won't experience any issues related with safe packing and moving. Hercules Packing Company are not like any other packing and moving companies, we actually care for our clients and we are not just saying that. A happy client is a returning client, and we pride on maintaining that relationship as long as possible. Therefore, it is important for us to go an extra mile by proving you with extra help by offering special tips and suggestions on how to properly pack things yourself. If you're not thinking getting one of the packing and moving companies near you, then you are planning to start packing yourself.
First rule to remember is to avoid mixing different type items together. Second, make a list of all your personal belongings and boxes, or better yet take pictures of all furniture pieces. We also advise you to individually wrap breakables items, proper taping prevents boxes from opening, and don't forget to label them to easily locate items at your new home. Third, we recommend keeping precious items, jewellery, important documents, cash, heirlooms and other sentimental and high valued items with you at all times. Good organisation skills helps to avoid common issues associated with a move.
Not many companies can offer professional services like we do:
Single item packing;
Kitchen packing;
Dining Room packing;
Bedroom and Bathroom packing;
Living Room / Family Room packing;
Garage / Storage packing;
Custom packing services;
Full packing and moving service;
Storage services;
Packing boxes & Supplies.
Successful moving
We have a team of one of the best moving and packing professionalists and who are reasonably priced. If you are considering moving yourself please note that there are major disadvantages associated with that choice which include but not limited renting a moving transport, paying for the fuel, renting moving equipment and supplies, as well as finding someone to help you with loading and unloading the transport.
Furthermore, in the worst case scenario there are no insurance or protection plans to prevent your items from being damaged. Choosing one of the best packing and moving companies will save you a lot of time and protect you from a number of associated risks. When you choose one of packing and moving companies make sure that they have excellent communication. That is the one of the main keys to a 100% successful move.
Our acknowledgeable drivers will ensure the transportation and delivery of your furniture and things in a professional and timely manner. Please note that we do not transports hazardous and dangerous materials like oil and gas, that require a special permits.
Why choose Hercules Packing Services?
A stress free packing and move;
Save yourself from physical injury and your own expensive time;
Ensure a safe packing and damage free move;
Fully insured and bonded movers;
Fully equipped packing and moving company who arrive on time;
Upfront pricing and no hidden fees;
Trust 10 years of moving experience;
We are different from other companies that offer packing and moving services.
When looking for high quality services between packing and moving companies check trusted online reviews and get the best experienced movers.
Everything for your needs
Relocating with the help one of the best packing and moving companies can save you from quite a few sleepless nights. Hercules Moving Company experience will ensure that everything runs smoothly and without hassle. Moving with the help of Hercules Moving Company (HMC) awarded as one of the best packing and moving companies can save you time and money. Over the past 10 years HMC have gained enormous experience and we think we have seen it all to ensure that every move job we schedule will run as smoothly and as hassle free as possible.