Packing services Toronto
Getting help with packing from one the top rated moving company Toronto will provide you with a peace of mind during your move. You can be sure that all of your personal belongings will be safely and professionally packed and prepared for the move. We have one of the leading packing services Toronto in the moving industry today. We are also happy about the fact that we can meet any of our client's moving and packing needs, and help them feel stressed-free during the entire moving process.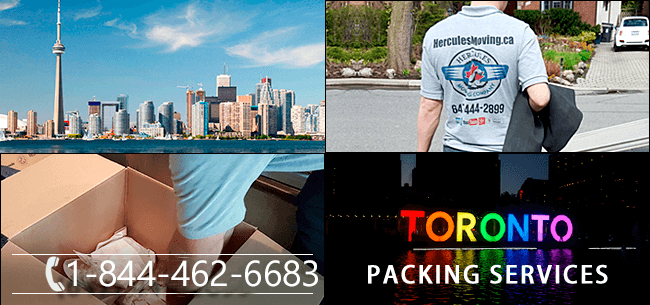 On average a person moves 10 - 11 times throughout their lifetime, which is not as often as you may think. It is also quite difficult to know what to expect with each move, because every time is unique. As people acquire more personal things over their lifetime, consequently the time it takes to pack their house will vary each time. When having too many things on your mind during the moving process, choosing professional packing services Toronto might be the most reassuring decision you can make.
However, searching for suitable packing and moving services can be time and cost consuming and therefore, become a very tedious task. While there are a lot of different packing companies in the moving industry to choose from, selecting the best one will guarantee a stress-free move without any unwanted turmoil. Hercules Packing Services Toronto will tailor services to your personal needs, schedule and budget. Our packing services Toronto aims to provide information that is clear to our customers in terms of estimate costs and time range you can expect for your move. We try to look at the moving process from your perspective and skillfully guide you through every step of the way of packing and moving.
Moving on a Budget? Do It Yourself Moving!
If you decide to pack your personal belongings instead of hiring specialized packing services Toronto, then you have to keep in mind the following few things. Visit our page to find video clips that guide you on how different items in your home should be packed and which packing techniques to use best. Special handling is necessary when packing items such as mirrors, antiques and other fragile personal possessions.
Furthermore, you will need the following packing supplies, including but not limited to packing tape, rubber bands, bubble wrap, stretch wrap, various sized boxes, moving blankets, packing paper, foam packing peanuts, picture corner protectors, mattress covers and etc. If you prefer, we can personally customize the necessary materials for your move and deliver it straight to your door, prior to your move.
How to Protect Your High Valued Items When Moving
The Hercules packing services Toronto also offers professional guidance on packing. We start with assessing every detail of your move, in order to make an accurate list of all your personal belongings that need to be packed. High valued pieces may require special attention and particular packing techniques to make sure it is safe for transportation. Large and bulky furniture pieces may require our professionals to disassemble them properly before packing.
We have the expertise to understand how each item should be packed and carefully placed within the moving truck for transportation. Proficiently organizing your things, such as logically grouping boxes and labeling is what we do best, that way assuring an easy unpacking for you. Of course, we keep in mind that there are always some personal items that perhaps should be packed by you. If that is the case, we highly recommend reading our packing tips prior packing things yourself. The main goal of our packing services Toronto is to help you protect your goods from acquiring any damage during delivery and transportation.
What Protection Plans Do I Need?
Always choose the best movers Toronto that can assist you with all the necessary packing supplies Toronto, as well as give you the option of full house packing services Toronto. Before you move, we highly recommend that you inquire about all the different types of insurance options available in order to have protection and coverage from any damage to your personal belongings during the moving process. You can customize your insurance options to your personal preferences, whether it is only when your belongings are stored in the warehouse or solely during the transportation process.
Our Commitment and Customer Ratings
Packing and moving can also be extremely time consuming. If you find yourself short on time, you can contact us, your best movers Toronto for help. We will make sure that from packing to organizing, we are readily available to assist you. We offer services ranging from a simple packing solution to a full packing service Toronto. We are fully committed to optimizing our services, making them more efficient and seamless day to day. We believe that communicating with our clients thorough out the entire moving process, allows us to provide you with the most rewarding packing and moving experience. You can always check out our customers' reviews and ratings online.
Unpacking Services
Not only do we offer a variety of packing services to fit your personal needs, we can also help you unpack your items and assemble your furniture. We can unpack your every single personal item, based on your needs and according to the agreed upon moving contract. We offer standalone unloading and unpacking services. For example, if you received a pre-packed POD or a container, regardless if it was packed by other movers or by you, you can contact Hercules Moving Company to help unload and unpack your belongings.
Why choose our packing services Toronto and moving?
A stress free packing and move;
Save yourself from physical injury and your own expensive time;
Ensure a safe packing and damage free move;
Fully insured and bonded movers;
Fully equipped packing services Toronto and movers who arrive on time;
Upfront pricing and no hidden fees;
Trust 10 years of moving experience;
We are different from other companies that offer packing services Toronto.
When it comes to high quality packing services get experienced movers
Perhaps you are looking for specialized item packing services Toronto and delivery or maybe searching for piano packing services Toronto, rest assured that your move is in the best hands. Our team can provide you with high quality packing services Toronto. Our experience, professionalism and dedication towards every task is what made us a premier moving company in the packing and moving industry. Our team is highly trained to handle your packing and moving as efficiently and safely as possible to satisfy your any moving and packing requirements.