Reliable Markham Movers
Whether you are moving house or moving offices, moving just a few blocks to the other side of the county, Markham movers will be able to assist you with every moving related need you have. The best moving company in Markham has to offer will do everything from planning your move to delivering the keys to your new unpacked house or office. Because Markham movers know that you are busy, they offer services dedicated to taking all the work off your hands and making your moving experience as easy as possible.
Today we are proud to provide local moving service in Markham
Cornell
Cachet
Greensborough
Unionville
Wismer
Common
Stouffville
Milliken
Thornhill
Berczy
Bullock
Markham Village
Raymerville
Angus Glen
And much more!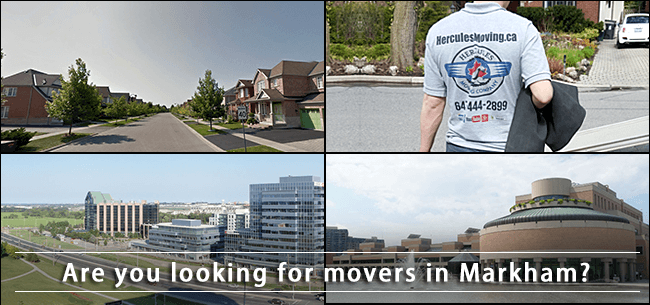 When to hire markham movers?
If you choose a hands-on approach and prefer doing everything yourself, Markham movers can send you a van on moving day and just move your furniture to the new location. However, if you, like most people, are busy and have a lot of other things to do, you can leave absolutely everything to the Markham movers. They will send professional packers to securely pack up your house, bring their own packaging materials, move your things, unpack it at the new location and even send professional pre- and post-moving cleaning services to get both your old and your new house in tip-top condition. Markham movers can assist you on absolutely all your moving requirements.
With all the excellent movers Markham has to offer, finding the perfect one for you will be no problem. They all will offer you flexible options. The best professional movers Markham has to offer you free quotations and advice. Just call them to get personal service and you'll soon find your own Markham movers who'll assist you from start to end. Every move is unique and you can expect to be treated with friendly and efficient service.
Get moving tips for moving
Moving services Markham are flexible to accommodate your specific moving needs and requirements. When you discuss your moving plan with your Markham movers, they will be able to advise you on your options and help you find solutions that will fit both your budget, schedule and personal preferences.
We care your belongings
Markham movers value your belonging just as much as you do. To protect your things, they can provide packaging materials, including specialized boxes, to make sure that everything reaches the new destination in the same condition that it was before. Your Markham moving company will also be able to offer you moving insurance, in case something happens on the road.
When you find your Markham movers, they'll be able to offer you some excellent moving advice. Small things like draining potted plants, washing machines, and dishwashers beforehand may save a lot of time and effort. Markham movers usually have a lot of packing advice to offer, like taping both the top and bottom of your boxes and labeling it with the rooms where it needs to go.
How much does moving cost in Markham?
Relocation cost for your local or long distance move can vary depending on a number of different factors:
Depending on your location and where do you want to move from Markham;
Whether you need a packing, carrying, loading into the van, carrying amount of the furniture, pianos, household appliances and other belongings from your house and travel fees;
The moving price with Markham movers can depend whether you're wishing to move studio apartment, two or three bedroom apartment or larger homes;
The moving cost for the local Markham movers depend on hourly rate. From the movers efficiency will depend how quick and smooth your move will be and how much you will save;
Amount of the vans needed to load all your belongings, from truck rental and it's insurance and etc.
Why choose Hercules moving services?
Save yourself from physical injury and your own expensive time;
A stress free move;
Ensure a safe and damage free move;
Fully insured and bonded movers;
Fully equipped Markham movers who arrive on time;
Upfront pricing and no hidden fees;
Trust 10 years of moving experience;
We are different from other residential Markham movers.
When it comes to specialized moving services, like finding the best piano movers Markham has to offer, you may choose to verify their services by making use of Markham movers reviews. Your possessions are important to you and only the best services will suffice. Making the effort to find the best will only save you time and money in the end. It is absolutely worth it. The best and easiest way to get an estimate from Hercules Moving Company Markham that is located on

12 Doral Gate, Markham, ON L3T 7K6

is to request a quote.