Surrey movers
Are you looking for the best movers Surrey has to offer? Excellent idea! Using one of the professional movers Surrey has to offer will save you a lot of frustration and time during your moving process. Your move should be easy, smooth and stress-free and only the best Surrey movers can help you achieve such a pleasurable moving experience.
We're proud to provide local moving service in Surrey neighborhoods like:
Guildford
North Surrey
Cloverdale
West Newton
Fleetwood Tynehead
South Surrey
White Rock
East Newton
And much more!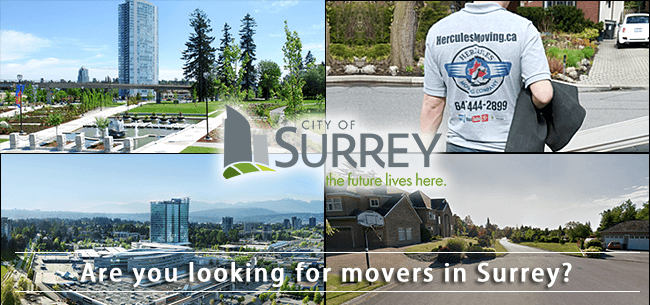 Your moving company Surrey knows that each move is unique and whether you have a ton of stuff or just a few boxes and if you are moving down the block or across the country, doesn't matter. Your Surrey movers will be able to work with you to draw up a moving plan that will provide the perfect moving solution to your personal situation. Proper planning can eliminate many headaches and this can be well organized with proper moving checklist. If you're dealing with experienced Surrey movers they can offer for you moving checklist. Good movers in Surrey, BC offer friendly, efficient and flexible services that can be adjusted to suit your personal needs perfectly.
Why better choose experienced movers Surrey?
There is nothing moving related that cannot be done and your Surrey movers will be able to provide solutions to all your moving challenges. Their years of experience will save you time, money and frustration and the help of your Surrey movers will be worth their weight in gold. They know that moving can be disruptive and they will advise you on the best moving practices to minimize your downtime and disruptions. Using Surrey moving company's reviews to choose the company you want to work with is an excellent idea to ensure getting the best possible moving partner.
Full moving services in Surrey
All the best moving companies Surrey has will be able to assist you in various ways throughout your moving process. Surrey movers and storage offer moving services that can be limited to only furniture removal if you choose, or they can deliver packing materials, pack up everything for you, dismantle furniture, unpack and reassemble everything at the new location, move vehicles if you need it, provide storage solutions and even offer pre- and post-move cleaning services. It all depends on your requirements.
Moving tips
Your Surrey movers will also be able to give you great tips to help everything run smoothly. Have you remembered to drain potted plants and the washing machine before your movers in Surrey arrive? Doing so will save them time, and time is money. Also, you won't be getting the rest of your belongings wet in the moving van and thereby prevent water damage.
Because your movers in Surrey, BC know that anything can happen and all moves do involve a bit of risk they will offer you moving insurance. In a case of fire, theft, overturning or an accident, your belongings will be covered. To minimize your risk even further, they employ only the best drivers with excellent track records, keep their vehicles in perfect condition and track all moves with GPS. Your Surrey movers will do everything in their ability to make your move as smooth and hassle free as possible.
How much does moving cost?
Relocation cost for your local or long distance move can vary depending on a number of different factors:
Depending on your location and where do you want to move from Surrey;
Whether you need a packing, carrying, loading into the van, carrying amount of the furniture, pianos, household appliances and other belongings from your house and travel fees;
The moving price with Surrey movers can depend whether you're wishing to move studio apartment, two or three bedroom apartement or larger homes;
The moving cost for the local Surrey movers depend on hourly rate. From the movers efficiency will depend how quick and smooth your move will be and how much you will save;
Amount of the vans needed to load all your belongings, from truck rental and it's insurance and etc.
The best and easiest way to get an estimate for the Surrey movers service is to request a quote.
Why choose Hercules moving services?
Save yourself from physical injury and your own expensive time;
A stress free move;
Ensure a safe and damage free move;
Fully insured and bonded movers;
Fully equipped Surrey movers who arrive on time;
Upfront pricing and no hidden fees;
Trust 10 years of moving experience;
We are different from other residential Surrey movers.
If you need your piano to be moved to your new location, your Hercules Piano Movers Surrey. Because they are specialists in the field, they will be able to get the job done fast, efficiently and without causing any damage. Your Surrey movers will be great moving partners who'll help you move successfully without the usual stress involved in the process. Now relax, your move is in safe hands.