Brampton Movers
You may know that moving is a very small word for a very big job, but did you know that Brampton movers can take care of everything while you sit back and relax? Brampton movers services are flexible, efficient and provide value for your money. Movers in Brampton will help you draw up a realistic moving plan and help execute it to the letter. Brampton movers will be invaluable partners in your relocation process.
Today we're proud to provide local moving service in Brampton neighborhoods like: and much more:
Vales of Castelmore
Bram East
Fletcher's Meadow
Bramalea
Gore Meadows
Heart Lake
Mount Pleasant
Eldomar Heights
And much more!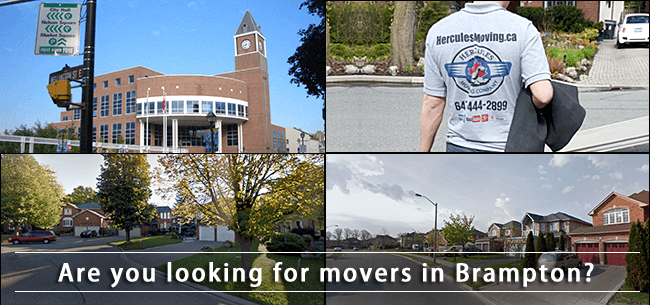 The best full moving services in Brampton
Brampton movers offer a variety of flexible services, and you will remain in control of how much you want to do yourself and how much of the work you want to leave for the potential moving companies in Brampton. You can choose to pack everything up yourself or they can send professional packers, deliver moving boxes and other packing materials, dismantle and reassemble furniture and even provide vehicle moving and cleaning services. The many piano movers Brampton has to offer can move your musical instrument with ease, and without causing any damage. While you discuss your moving plans with your Brampton movers, they will help you decide on what services you want to use and how involved the movers will be in your relocation process.
Smooth relocating
All of the best moving companies Brampton has, all know that each move is unique and that, unfortunately, there will always be a risk involved. Professional movers Brampton take caution and care to minimize risk of any damage, and will also provide you with moving insurance. In a case of fire, theft, overturning or an accident with the van, your belongings will be covered. Finding a great moving company that will satisfy each or your requirements can change your moving experience from being stressful to a smooth, easy process. Reading a few Brampton movers reviews is an excellent method of finding the best movers with the best customer service.
Few important moving tips
Experienced Brampton movers have learned a thing or two about moving through the years. House movers Brampton will be able to give you great tips and tricks to make things easier. For instance, drain your potted plants, washing machine and dishwasher before your movers arrive. Also, Brampton movers suggest that you label your boxes, including the room where it needs to go, especially if you're planning ok keeping the in storage Brampton. However, don't take the labeling too far, "Grandma's precious diamond jewelry" invites nosy fingers into the box. Rather use abbreviations if you really want to take labeling that far.
Your Brampton moving company will let you know about the specifications of space they require to park and load the van. Try to reserve a parking space as close as possible to the entrance of the building at both the old and new locations. Elevators can also cause a problem during moves and Brampton movers suggest that you let the rest of the people in the building know that you will be using the elevator for the move. Also, remember that waiting for the lift will add some extra time to the move.
Planning the move
Brampton movers will also offer you a move planning service when you book your move with them. Planning your move up to the tee will save you time and money and a lot of frustration on moving day. Let your Brampton movers know exactly what you expect them to do and what you will be doing yourself. Make sure that your to-do list is done on schedule to prevent slowing down the move.
How much does moving cost in Brampton area?
Relocation cost for your local or long distance move can vary depending on a number of different factors:
Depending on your location and where do you want to move from Brampton;
Whether you need a packing, carrying, loading into the van, carrying amount of the furniture, pianos, household appliances and other belongings from your house and travel fees;
The moving price with Brampton movers can depend whether you're wishing to move studio apartment, two or three bedroom apartement or larger homes;
The moving cost for the local Brampton movers depend on hourly rate. From the movers efficiency will depend how quick and smooth your move will be and how much you will save;
Amount of the vans needed to load all your belongings, from truck rental and it's insurance and etc.
The best and easiest way to get an estimate for the Brampton movers service is to request a quote.
Why choose our services?
Save yourself from physical injury and your own expensive time;
A stress free move;
Ensure a safe and damage free move;
Fully insured and bonded movers;
Fully equipped Brampton movers who arrive on time;
Upfront pricing and no hidden fees;
Trust 10 years of moving experience;
We are different from other residential Brampton movers.
Brampton movers can change any move from a nightmare to a smooth and easy experience. Their professional and flexible services will save you time, money and loads of frustration. When it comes to movers, Brampton has the best to offer and you can rest assured and relaxed. You'll be in your new home in the blink of an eye.