Scarborough Movers
Whether you are looking for moving services in Scarborough to help you relocate your home and office, or the best piano movers Scarborough has to offer, you'll surely be able to find the best solution to your moving headaches. Looking for the best moving companies Scarborough has, you'll soon realize that moving really doesn't have to be a nightmare. With the help of Scarborough moving companies, your move will run smoothly and before you know it you'll be settled in at your new location. Your Scarborough movers will assist you with every step of the process and if you choose, you won't even have to lift a finger.
We're proud to provide local moving service in Scarborough former city in Toronto neighborhoods like:
Birch Cliff
Cliffside
Cliffrest
West Hill
Port Union
Highland Creek
Miliken
And much more!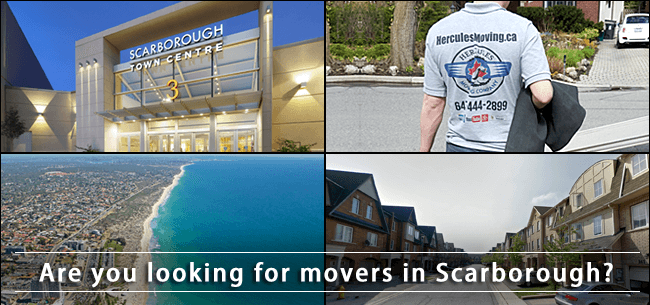 Scarborough moving services
Hercules Scarborough moers offer a variety of moving services that cover every aspect of a move and you can choose to take part in as little or as much of the process as you'd like. Your Scarborough moving company can offer you moving boxes, packing and unpacking services, deliver packing materials, move vehicles to your new location, store furniture if you need it and even offer pre- and post- moving cleaning services. If there is anything they can't do themselves, your Scarborough movers will be able to refer you to professionals who will be able to assist.
Scarborough moving services are flexible, professional and friendly. Movers in Scarborough Ontario will work with you to prepare a moving plan that will take all of your individual needs into consideration. Scarborough movers will be able to advise you on the best moving practices and tips to minimize your risks and limit your downtime to as little as possible. While discussing your moving plan with your Scarborough movers, let them know how much of the work you'd like to do yourself and exactly what you would like for them to do.
How much does moving cost in Scarborough?
Relocation cost for your local or long distance move can vary depending on a number of different factors:
Depending on your location and where do you want to move from Scarborough;
Whether you need a packing, carrying, loading into the van, carrying amount of the furniture, pianos, household appliances and other belongings from your house and travel fees;
The moving price with Scarborough movers can depend whether you're wishing to move studio apartment, two or three bedroom apartement or larger homes;
The moving cost for the local Scarborough movers depend on hourly rate. From the movers efficiency will depend how quick and smooth your move will be and how much you will save;
Amount of the vans needed to load all your belongings, from truck rental and it's insurance and etc.
The best and easiest way to get an estimate for the Scarborough movers service is to request a quote.
Protected belongings
Your Scarborough movers know that there will always be some risks involved in moving, which is why they offer moving insurance. Professional movers Scarborough will do everything in their power to protect your belongings against damage. You'll also be insured in case of fire, thefts, and accidents and overturning.
Few moving tips
With years of experiences comes knowledge of the best moving tips and advice. Scarborough movers suggest that you use bigger boxes to pack lighter things while you pack heavy things like books into smaller boxes. Also, remember to drain potted plants and disconnect and drain the washing machine and dishwasher before the movers arrive, especially if you're planning on keeping them in storage. Also, make sure that your Scarborough movers have enough room to carry furniture to the van by keeping hallways, doors and walkways open.
If you like, you can have your Scarborough movers dismantle and reassemble your furniture. Just remember to let them know about this while you are planning your move as they will need to bring the right tools and allow extra time. Scarborough movers will be able to advise you on the right regulations to follow such as checking if there's a service gate that needs to be used at the new location.
Why choose Hercules Moving Services?
Save yourself the time and physical injury;
A stress free move;
Fully insured and bonded movers;
Ensure a safe and damage free move;
Upfront pricing and no hidden fees;
Fully equipped Scarborough movers who arrive on time;
Trust 10 years of moving experience;
We are different from other residential Scarborough movers.
How to choose the best moving company
When choosing the best movers, Scarborough can offer you more than just two men and a truck. Finding a moving company that can assist you in relocating to your new house or office will take the pressure of moving off your shoulders.

Scarborough movers reviews is an excellent way of verifying a company's services, and movers with loads of happy clients will surely be able to offer you their best service too. The best and easiest way to get an estimate from Hercules Moving Company Scarborough that is located on

50 Melchior Dr, Scarborough, ON M1E 3W5

is to request a quote.