Richmond Hill Movers
After expanding all your effort finding your new house or office, moving may seem like a mountain of work in front of you, but with experienced Richmond Hill movers this task can be very easy. However, getting some help of good movers, your relocation won't be half the trouble it appears to be now. Whether you are looking for general movers who can help you relocate a few blocks, to a completely new city, or if you are looking for specialized services like piano movers, Richmond Hill has the best of the best and you can rest assured that your move will run smoothly and successfully. Richmond Hill movers will be able to assist you every step of the way, so you won't need to worry about a thing.
Today we're proud to provide local moving service in Richmond Hill neighborhoods like:
Oak ridges
Elgin Mills
Richvale
Temperanceville
Headford
Quaker
Carrville
Yongehurst
Jefferson
Wilcox Lake
Beverley acres
Bayview Glen
And much more!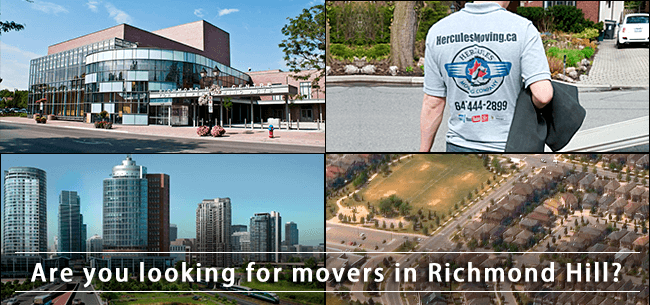 Full moving services
When it comes to movers, Richmond Hill has plenty of excellent and professional services to offer. With experience, friendly service and excellent free advice, the best moving companies Richmond Hill has will offer you free quotations, plan your move, and provide a wide range of flexible solutions to suit your personal moving needs. Your Richmond Hill moving company will be able to assist you with packing services, packaging materials, planning services, specialized moving services, pre- and post-moving cleaning, and even storage Richmond Hill. Depending on your preferences, they can do either everything as pertains to your move, or just the very basics.
Local Movers Richmond Hill Ontario
Reading through a few movers reviews can help you choose the best company to work with. Every move is different, and your moving requirements will best decide which Richmond Hill moving company is best for you. Once you've decided on your needs, your Richmond Hill movers will assist you in planning your move from start to finish. Your local Richmond Hill movers will be able to advise you on preparing for the move at both the old and new locations. Being well prepared for your move will save you time, money and a lot of frustration on moving day.
Few moving tips
When you are working with professional movers, Richmond Hill, they'll advise you beforehand on what you can do to make moving day run as smooth as possible. If it's possible, reserve parking spaces close to the front of the buildings at both the old and the new locations. Remember those big moving vehicles need bigger parking spaces, and the movers will require space to load and unload furniture. Your Richmond Hill movers will advise you on other regulations that you need to check, such as specific gates and entrances that moving vehicles are supposed to use.
How much does moving cost in Richmond Hill?
Relocation cost for your local or long distance move can vary depending on a number of different factors:
Depending on your location and where do you want to move from Richmond Hill;
Whether you need a packing, carrying, loading into the van, carrying an amount of the furniture, pianos, household appliances and other belongings from your house and travel fees;
The moving price with Richmond Hill movers can depend whether you're wishing to move studio apartment, two or three bedroom apartment or larger homes;
The moving cost for the local Richmond Hill movers in Ontario depend on an hourly rate. From the mover's efficiency will depend on how quick and smooth your move will be and how much you will save;
Amount of the vans needed to load all your belongings, from truck rental and it's insurance and etc.
Experience importance
Moving services in Richmond Hill have loads of moving experience and they know what works best. One excellent piece of advice is to pack lighter things in bigger boxes while packing heavy items such as books in small boxes. Your boxes will be easier to carry while you will still use less material than packing everything into small boxes. Your Richmond Hill movers will have dollies and blankets available to move heavy things and valuables, and protect your belongings while in the van.

If you would like for the movers to dismantle and reassemble some furniture such as your bed or table, you can ask your Richmond Hill movers ahead of time, while you are planning your move. Remember that they will need to bring the right tools for the job and allow for additional time to do it. Richmond Hill movers are flexible in the solutions they offer, and you can rest assured that they will be able to assist you with whatever you need doing or refer you to someone who can.

Finding the right Richmond Hill movers will take all the stress of moving off your shoulders, and make your relocation a breeze. Richmond Hill movers services include everything related to moving, and if you choose you can have your house moved without having to lift finger. Now all that's left is to just relax and enjoy the process. The best and easiest way to get an estimate from Richmond Hill Movers - Hercules Moving Company that is located on

9471 Yonge Street #521, Richmond Hill, ON L4C 0Z5

is to request a quote.