Vaughan Movers
Are you planning to move your home or offices across the city or across the country in the near future with Vaughan movers? If so, Vaughan moving company will be worth their weight in gold throughout your experience. With a variety of flexible service solutions for every one of your moving challenges, Vaughan movers will be able to assist you every step of the way. The best movers in Vaughan will take the weight off your shoulders, and turn your moving experience into an easy and enjoyable one. Your Vaughan moving company will be able to advise you on ways to save time and money, and before you know it you'll be settled in your new home. Today we're proud to provide local moving service in Vaughan neighborhoods like:
Kleinburg
Woodbridge
Concord
Teston
Edgeley
Maple
Thornhill
Oakwood
Nashville
Coleraine
And much more!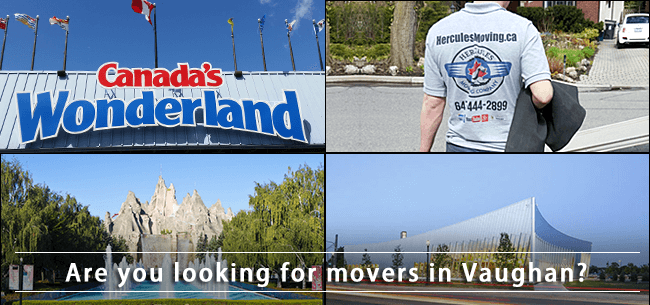 Planning a move
Because of their professional experience, Vaughan movers will help you plan your move to be efficient, easy and limit your downtime to an absolute minimum. A good idea is to read a few Vaughan movers reviews to get a feel of other customers' experiences with moving companies in Vaughan Ontario that you plan to use. Vaughan moving services are professional, friendly and flexible and will be able to consult with you to offer a moving plan, and storage in Vaughan that suit both your budget, schedule and individual preferences.
Vaughan movers have been around the block, more than just a few times. That's why they'll be able to offer excellent advice to save you both time, money and a lot of frustration. Your Vaughan movers will be able to offer you a variety of services - you can choose to let them do all the work, or just the heavy lifting, whatever works best for you. While you are discussing your moving plan, the right movers in Vaughn will let you know about services that might be able to make your life easier. Vaughan movers can assist with moving boxes, packing, unpacking, delivering packaging material, supply specialized services and may even be able to offer you pre- and post-cleaning services.
Because your belongings are important to you, Vaughan movers make an effort to protect you from loss. If you prefer to make use of their packing services, movers Vaughan Ontario will carefully pack your things into special boxes to prevent them from being damaged. Professional movers Vaughan keep their vehicles in perfect running order, and employ only the best drivers to keep the risks associated with your move as low as possible. Vehicles are also under constant GPS tracking.
Specialized moving services
If you require specialized services, finding the best piano movers Vaughan has will take the risk out of moving your prized musical instrument. You can relax about the rest of the associated risks because Vaughan movers will be able to offer you moving insurance in case of fire, accidents, overturning or theft.
Packing services in Vaughan
Whether you prefer a hands on or hands off approach, Vaughan movers will be able to offer you the perfect solution. You can either choose to have them pack everything up and unpack at the new location, or you can do all the packing yourself. You can even ask your Vaughan movers to partially pack for you. You may be more comfortable with packing some things yourself and they'll do all the rest.
How much moving cost?
Relocation cost for your local or long distance move can vary depending on a number of different factors:
Depending on your location and where do you want to move from Vaughan;
Whether you need a packing, carrying, loading into the van, carrying amount of the furniture, pianos, household appliances and other belongings from your house and travel fees;
The moving price with Vaughan movers can depend whether you're wishing to move studio apartment, two or three bedroom apartement or larger homes;
The moving cost for the local Vaughan movers depend on hourly rate. From the movers efficiency will depend how quick and smooth your move will be and how much you will save;
Amount of the vans needed to load all your belongings, from truck rental and it's insurance and etc.
The best and easiest way to get an estimate for the Vaughan movers service is to request a quote.
Why choose Hercules moving services?
Save yourself from physical injury and your own expensive time;
A stress free move;
Ensure a safe and damage free move;
Fully insured and bonded movers;
Fully equipped Vaughan movers who arrive on time;
Upfront pricing and no hidden fees;
Trust 10 years of moving experience;
We are different from other residential Vaughan movers.
If you are looking for movers, Vaughan definitely has the best to offer. All you have to do is choose between the best moving companies Vaughan has to offer, give them a call and relax about your upcoming move. They will do the heavy lifting for you.