Victoria Movers
Moving, one small word that can cause so much panic. Are you already lying awake about your upcoming move? Let Victoria movers take the weight off your shoulders and handle everything for you. You can sleep soundly because the best movers in Victoria, BC can do everything for you while providing flexible solutions to every moving challenge you face. The services of professional Victoria moving company movers are efficient, friendly and cost-effective. Relax, Victoria movers have you covered.
We're proud to provide local moving service in Victoria neighborhoods like:
Sidney
South-East
Saxe Point
Sidney North-East
Whiffin Spit
Fairfield East
Fairfield West
Rockland
James Bay
Sidney South-West
Sunriver
Uplands
Olympic View
South Oak Bay
Downtown
Songhees
Lagoon
Royal Bay
Bear Mountain
Sidney North-West
Latoria
Ten Mile Point
Fernwood
Bear Mountain
Gonzales
Estevan
And much more!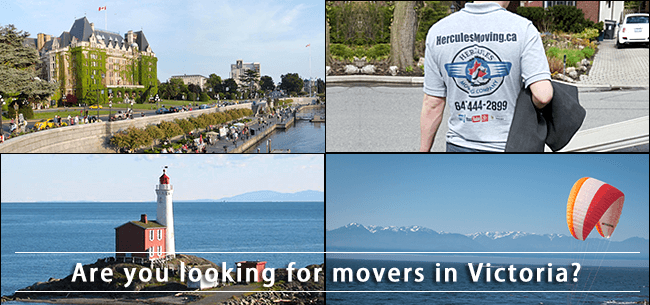 Why always is better choose experienced Victoria movers?
With the help of the professional moving companies in Victoria, your move can run smoothly and cut your downtime to the minimum. You might even be able to catch a few good nights of sleep. Your Victoria movers will be able to do everything for you if you choose them to. How much effort you put into your moving process is entirely up to you. You can choose to do everything yourself and have to movers to the bare minimum, or you can make use of the great Victoria moving services they have to offer and have them do all to work. Movers offer friendly, efficient and flexible services and they will be able to work with you to draw up a moving plan that will suit both your budget and your schedule.
Moving services that will save you a lot
If you choose a hands-on approach, you can use your Victoria movers only to move your furniture to your new location. This may be the cheapest option at first glance but when taking all factors into consideration, you may agree that a hands-off approach can offer excellent value for money. Having your Victoria movers do absolutely everything for you will allow you to continue with your daily life without having to run around to find packing materials. You will likely also suffer fewer breakages as professional packers will securely get everything into sturdy moving boxes with a precision that only experience can provide. How about finding a middle ground and packing up all your very personal things while trusting the rest of the packing to your Victoria movers?
Special services
Speaking of experience, Victoria has to offer one of the specialized services that can save you a lot of money and frustration. Getting professionals Victoria movers can prevent damage to your prized musical instrument. By using the best moving company Victoria has, you will get excellent services, very limited downtime, enough sleep and the absolute minimum breakages, if any.
Choosing right movers
Using Victoria movers, BC's reviews to choose the best of the best is an excellent idea. Getting to know previous clients' experience with a company can help you choose the one that will best provide the services you need. With the help of your Victoria movers, you'll be in your new location in the blink of an eye.
How much does moving cost in Victoria?
Relocation cost for your local or long distance move can vary depending on a number of different factors:
Depending on your location and where do you want to move from Victoria;
Whether you need a packing, carrying, loading into the van, carrying amount of the furniture, pianos, household appliances and other belongings from your house and travel fees;
The moving price with Victoria movers can depend whether you're wishing to move studio apartment, two or three bedroom apartment or larger homes;
The moving cost for the local Victoria movers depend on hourly rate. From the movers efficiency will depend on how quick and smooth your move will be and how much you will save;
Amount of the vans needed to load all your belongings, from truck rental and it's insurance and etc.
The best and easiest way to get an estimate for the Victoria movers service is to request a quote.
Why choose Hercules Victoria movers?
Save yourself from physical injury and your own expensive time;
A stress free move;
Ensure a safe and damage free move;
Fully insured and bonded movers;
Fully equipped Victoria movers who arrive on time;
Upfront pricing and no hidden fees;
Trust 10 years of moving experience;
We are different from other residential Victoria movers.
Are you moving from Victoria to Vancouver? Your Victoria movers will be able to offer you move planning services, packing, and unpacking services, furniture removal, storage solutions, a vehicle moving, packing materials and even pre- and post- move cleaning services. If there is anything you need to be done, your Victoria movers will be able to do it for you or refer you to professionals who can assist if are unable to.
Victoria movers are an easy and cost-effective solution to your moving headaches. With the help of the excellent movers Victoria has, you can rest assured that you will be in your new location without losing much sleep. Give them a call and get the ball rolling.