Moving to Ottawa from Montreal
Montreal is a second largest city in Canada with its 3,6 million population itself and very important center of industry, commerce, culture and technology, that's why moving to Ottawa from Montreal can be very difficult decision. But those who can't decide what to do in this article can find why others moving to Ottawa. Moving is a small word for a huge ordeal. Planning on moving to Ottawa may seem daunting at first, but you'll soon agree that it can all be a great adventure.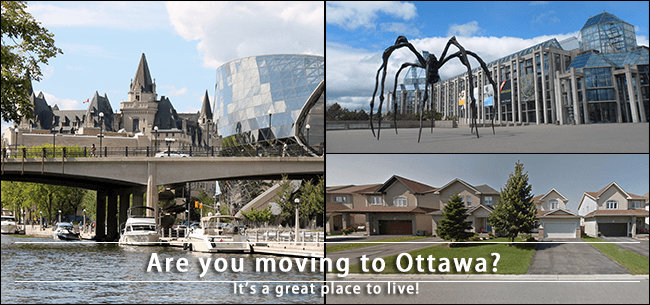 Living in Ottawa
Living in Ottawa means a blend of city living with small town appeal. Ottawa is Canada's capital, and a government town that offers a lot of great jobs in a variety of departments. Ottawa is the city with the most parks in all of Canada, and the residents generally prefer sports over nightlife. The capital city has many scenic bike paths that offer a great opportunity to start much healthier lifestyle. If you're moving to Ottawa from Montreal in the winter you will have access to the Rideau Canal, which is the longest skating rink in the world where you can break in your new pair of skates.
It is up to you where you want to live in Ottawa. Areas to live in, or avoid in Ottawa are just a matter of personal choice. The crime rate in the city is very low - with violent crimes even lower. Going to Ottawa is making a choice to live in a city that is ideal for families, students and professionals alike. For those who are looking forward to finding their next home in the Ottawa area, a great first place to search is Rentals.ca, where you can find affordable apartments, condos, and houses to rent across Ottawa.
Living in Ottawa pros and cons vs Montreal
After weighing the pros and cons of both cities, it is easy to conclude that Ottawa is the right choice. Although the cost of living in Ottawa is a bit higher than in Montreal, the salary difference between Ottawa and Montreal makes up for the extra expenditure. Living in Ottawa means living in a city where houses are fairly priced in relation to income. Rent is on average about 15% more expensive than it is in Montreal, but groceries are almost 15% cheaper in Ottawa.
Moving to Ottawa
Traveling from Montreal (Quebec) takes only a 2-hour drive to Ottawa (Ontario). The cost of moving to Ottawa from Montreal won't break the bank and it won't take a week either. Montreal Ottawa movers take excellent care of easing the moving experience as much as possible.
A good Montreal to Ottawa moving company will offer a great start to your new life adventure, and take most of the effort out of the ordeal. Moving to Ottawa from Montreal will be an adventure with more pros than cons. With the right help, moving will be fast, easy and painless. Just don't forget to choose the right professional movers.
Cleanest city in the world
Ottawa is one of the cleanest cities in the world, and boasts a very low crime rate. The local economy is stable and housing prices are reasonable. Lots of museums and parks are some of the pros when considering moving to Ottawa from Montreal, in addition to the small town feel of the Canadian capital. (Montreal also has many museums and parks, however Ottawa also has the following attractions that you can mention: Parliament Hill, Rideau Canal, National Gallery of Canada, Canadian War Museum, and the Canadian Museum of Nature).  Traffic congestion in Ottawa is better than in Montreal, though you may still get caught in rush hour, it shouldn't be too big of a problem.
There are some things that may take some getting used to when moving to Ottawa from Montreal. For some, living in Ottawa vs Montreal may cause missing a vivid nightlife.
The climate in Ottawa and Montreal is pretty much the same, in fact Montreal is probably colder in the winter than Ottawa. If you're moving to Ottawa from Montreal, you'll very soon figure out the best ways to deal with flying bugs in the summer.
Getting help on your moving day
If you decided that you are moving from Montreal to Toronto or definately decided that you're moving from Ottawa to Montreal it is important to think about Montreal movers. Many companies offer professional long-distance moving services and most of them can be found online. But which one is the right for you? Hercules moving company offering hassle free long distance moving services all across Canada. They are one of the most professional movers in Montreal that proud to provide local moving service in Montreal and Ottawa neighborhoods like:
Nepean
Richmond
Rockcliffe Park
Harwood Plains
Old Ottawa East
Old Ottawa South
Stittsville – Basswood
Carp
Greely
Westboro
Manotick
Island Park
Kanata Lakes
Civic Hospital
Hercules Piano Movers is a Montreal piano moving company that is expert in piano moving. This indeed is one of the best Montreal moving companies, which moves pianos across Canada like professionals.