Moving from Montreal to Toronto
Moving from Montreal to Toronto or other Canada city sometimes can be a hard decision. If you were living in one city for a long time, you may be leaving great memories, friends or family behind. So is it worth moving to Montreal from Toronto or vice versa? Do you often ask yourself, should I move to Toronto from Montreal? Do you think about any Montreal to Toronto moving company, do you have ideas what would you do in another city?
Live or move from Montreal
Moving from Montreal to Toronto can have great advantages and disadvantages. Talking about Montreal, is the second largest city in Canada and the largest city in the province of Quebec. It is often called a Ville-Marie of Canada and it is a second largest french-speaking city in the world. Living in Montreal is like living somewhere in the middle of the Europe. The city speaks french, has beautiful and old architecture as well as cozy narrow streets in the old town. Montreal is rich in culture, history and has several districts, which contains huge variety of restaurants, museums and galleries.
There are a lot of Canada's best ranking institutions in the city, including (anglophone universities: Concordia University, McGill University and Bishop's University and the rest francophone institutions: École de technologie supérieure, École Polytechnique de Montréal, HEC Montréal, Université de Montréal and Université du Québec à Montréal), McGill University is ranked the 1st in Canada and 24th in the world. Montreal is considered to be one of the best cities in the world for students and has a reputation as one of the liveliest cities in North America. That is why moving from Montreal to Toronto can be a painful decision.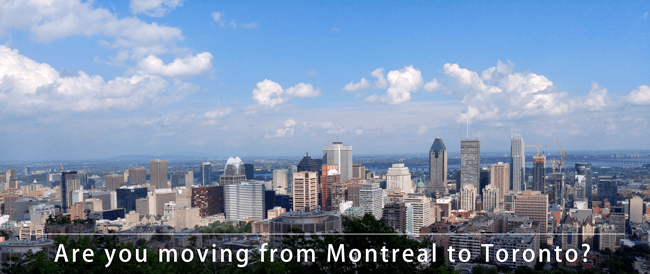 Living and Moving to Toronto
Despite the great reputation of Montreal, moving from Montreal to Toronto may be a great idea. Toronto is the largest city in Canada and could offer much more opportunities. The city attracts with its eclecticity, as it has been a popular destination for immigrants from large number of various countries for many years. Sometimes it is referred as the New York city of Canada because of its huge skyscrapers and multicultural population. One of the main reasons for moving from Montreal to Toronto may be studies. Despite the fact, that Montreal is a slight lead in university ranking, Toronto gets higher score in the best student cities "desirability" category. Toronto, York and Ryerson universities, many colleges and schools are located in the city. Moving from Montreal to Toronto may be a good idea if you want to study in a specific institution. A good job offer, new contract and career possibilities may be another good reason for moving from Montreal to Toronto. Salary difference between Montreal and Toronto is quite noticeable as well, as the salary in Toronto is about 20 higher than in Montreal.
The cost of moving Montreal to Toronto depends on several reasons. If you do not have many possessions, you can move to another city easily. Buying a bus, train or plane ticket is all you need. If transportation of furniture and all the things in the apartment or house is necessary, the cost depends on the size of the place and may be more than 2,000CAD for a three-bedroom house.
Moving to Toronto from Montreal
If you decided that you are moving from Montreal to Toronto, it is important to think about Montreal Toronto movers. A lot of companies offer professional long-distance moving services and most of them can be found on the internet. Some of these moving companies will provide free online consultancy as well as cost estimation. Moving from Montreal to Toronto will be easy, as these companies will have all the necessary equipment, would provide packing and unpacking services and clean, well-maintained moving trucks.
Hercules moving company is one such moving company with a head office in Toronto, and it's branches in Montreal, as well as other large Canadian cities. Current moving company is offering hassle free long distance moving services all across Canada. Upon contacting, they provide a timely quote with great packages and even customized moving services.
Hercules Piano Movers is a Montreal based piano moving company that provides the highest standards in piano moving. This indeed is one of the best Montreal to Toronto moving companies, which moves pianos across Canada like professionals. They provide direct client assistance when contacted. They make sure that moving is not only done for their clients according to their needs but is also a memorable experience.