Etobicoke Movers
Whether you plan on moving your house or office down the block or to a new city, Etobicoke movers will be a worthwhile investment in your relocation process. With the services of movers in Etobicoke, you can relax and watch from the sideline while everything is done for you. Etobicoke movers can do absolutely everything for you or they'll let you do as much as you prefer to do yourself. It's good to know that Etobicoke movers offer a variety of flexible moving solutions - you will definitely find one that works best for you.
When you search on web you can find many reviews and this will give you a general idea about the moving services Etobicoke movers can provide. We're proud to provide local moving service in Etobicoke (Toronto) neighborhoods like:
The Kingsway
Islington
Smithfield
Humber Bay
The Manor
Valley Village
Richview
Mimico
And much more!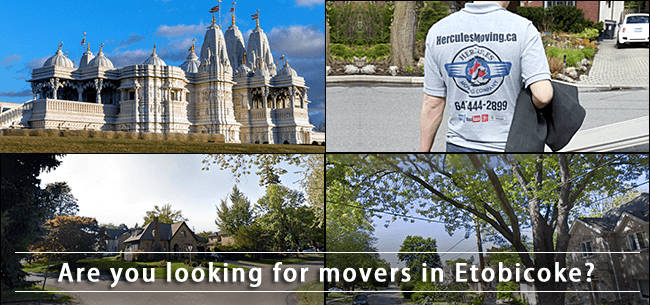 Moving with special care
With so many professional movers, Etobicoke moves can be easy, smooth and without much hassle or downtime to the client. Available services include everything from planning to packing, cleaning and even storage in Etobicoke. Specialized services such as piano moving Etobicoke, can take care of the things that need a little more care and knowledge than the rest of your things. Your Etobicoke moving company will advise you on a variety of options regarding your move, and will be able to assist with whatever requirements you have. If they can't do it themselves, they'll be able to refer you to the best of GTA movers who can.
Safe move with Hercules Etobicoke Movers
Your Etobicoke movers know that there will always be a little risk involved when your move is in transit. They will be able to provide you with moving boxes and the best packing materials and tips to pack your things securely. In the case that you let one of the Etobicoke moving companies to handle your move, they will make sure that everything is packed safely and securely. The best moving companies Etobicoke has employ the safest drivers, and trained movers with great track records. These Etobicoke moving companies take care to make sure their vehicles are in the best possible condition and track their vans with a GPS. However, anything can happen and Etobicoke movers are prepared with full moving insurance. In a case of fire, theft, overturning or an accident, your belongings will be covered.
Moving tips from Etobicoke movers
Experienced Etobicoke movers know what works best and how you can do things differently to make sure your move go as easy as possible and without any damage. When you pack plates, be sure to wrap each one individually and then stack them on their sides in a box, especially if you're planning of storing you belongings in a storage Etobicoke. Etobicoke movers also warn to keep an eye on the weight of boxes. Boxes and crates that are too heavy may be difficult to move and can add risk of damage. They suggest that you use big boxes for light things and smaller boxes for heavy things such as books.
Remember that moving requires space
Make sure to keep walkways, hallways and doors open so that Etobicoke movers can easily maneuver furniture through the house. They'll also need space to park and load so Etobicoke movers suggest that you try and reserve large enough parking spaces near the front of the buildings at both the old and new locations, even if you're only accommodating two men and a truck. Check the regulations of your new location - you may need special permits to allow the van into the complex. Also, some complexes require moving vehicles to use service gates.
How much does moving cost in Etobicoke?
Relocation cost for your local or long distance move can vary depending on a number of different factors:
Depending on your location and where do you want to move from Etobicoke;
Whether you need a packing, carrying, loading into the van, carrying amount of the furniture, pianos, household appliances and other belongings from your house and travel fees;
The moving price with Etobicoke movers can depend whether you're wishing to move studio apartment, two or three bedroom apartement or larger homes;
The moving cost for the local Etobicoke movers depend on hourly rate. From the movers efficiency will depend how quick and smooth your move will be and how much you will save;
Amount of the vans needed to load all your belongings, from truck rental and it's insurance and etc.
Etobicoke movers do their best to take all the hassle out of moving. Experienced moving company will provide flexible solutions and true value for your money. Using Etobicoke movers to verify the quality of a company's services, is an excellent way to prevent later regret.
Why choose Hercules moving services?
Save yourself the time and physical injury;
A stress free move;
Fully insured and bonded movers;
Ensure a safe and damage free move;
Upfront pricing and no hidden fees;
Fully equipped Etobicoke movers who arrive on time;
Trust 10 years of moving experience;
We are different from other residential Etobicoke movers.
Your Etobicoke moving services should be professional, efficient and friendly. They'll offer flexible moving solutions that cater to your every need and ensures that your move goes smoothly and without any complications. Movers Etobicoke provide excellent value for your money and will be an absolute investment in your relocation process.