Oakville Movers
Finding the best movers Oakville has to offer may seem like a waste of precious time that you could be packing instead. But the help of excellent Oakville movers can take the sting out of the moving process and save you lots of time and effort, not to mention frustration and costs. Oakville movers will be able to provide a list of moving related services.
On the world wide web you can find many reviews and this will give you a general idea about the moving services in Oakville.There are quite a huge number of Oakville movers you can find online but Hercules Oakville movers is one of the most professional moving companies in Oakville. We're also proud to provide local moving service in Oakville neighbourhoods:
Ford
Morrison
Old Oakville
Central Oakville
West Oakville
Southwest
Oakville
Bronte
Bronte Creek
Westmount
West Oak Trails
Glen Abbey
River Oaks College Park
Falgarwood
Wedgewood Creek
Joshua Creek
Clearview Glenorchy
Joshua Meadows
And much more!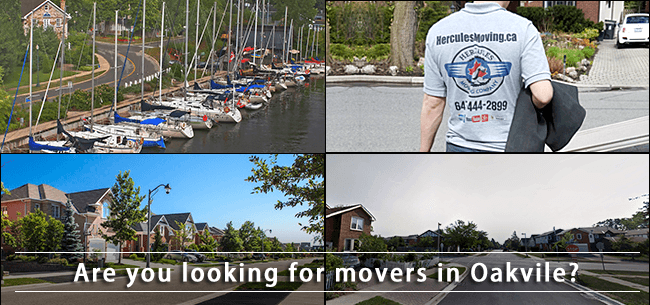 Though you may have thought that you'd have to do everything yourself, your Oakville movers can take all the work off your hands and let you carry on with your life while they handle all your moving related challenges.  Oakville moving services are limited only by your personal preferences and your schedule, budget and needs, which will be the deciding factor to how much work they'll do.  If you choose, your Oakville movers can do absolutely everything for you, including storage in Oakville. Movers in Oakville are also packers, who will arrive with moving boxes, and other packing materials at your house or offices to pack up everything and prepare for moving day.  Pre- and post-move cleaning services can prepare both the new and old locations for the big move.  Oakville moving companies can also provide vehicle moving services, dismantle and reassemble furniture, storage in Oakville, furniture removal and unpack everything at your new location.
How to save for a move
Your Oakville moving company will let you decide on how much you want them to do. If you don't want them to do absolutely everything, you can do all the packing and preparing yourself and have them only two men and a truck to assist in transport. Another option would be packing your most personal and treasured items yourself while asking your Oakville movers to pack the rest. The assistance of piano movers Oakville can also come in handy when you need your piano moved.
Oakville Movers Packing tips for
While you are packing, consider this piece of Oakville movers advice: Pack your heavy items such as books into small boxes. Use big boxes to pack light things, that way you'll have fewer boxes in the end but you'll also be able to move heavy items easily. Your professional movers Oakville Ontario also suggest that you try to reserve large enough parking spaces close to the entrances of both the old and the new buildings. Remember to keep hallways, walkways and doors free from boxes so that furniture can easily be carried through the house.
How much does moving cost in Oakville?
Average relocation cost for your local or long distance move can vary depending on a number of different factors:
Depending on your location and where do you want to move from Oakville;
Whether you need a packing, carrying, loading into the van, carrying amount of the furniture, pianos, household appliances and other belongings from your house and travel fees;
The moving price with Oakville movers can depend whether you're wishing to move studio apartment, two or three bedroom apartment or larger homes;
The moving cost for the local Oakville movers depend on hourly rate. From the movers efficiency will depend how quick and smooth your move will be and how much you will save;
Amount of the vans needed to load all your belongings, from truck rental and it's insurance and etc.
Get the best Oaivillle moving company
Your Oakville movers have been around the block a few times and they will have gathered quite a few moving tips and tricks with their experience.  The best moving companies Oakville has to offer will gladly share their advice to make your move as easy and stress-free as possible.
Oakville movers reviews are an excellent way of finding the best movers in the city and once youve found the best, you can relax. Your move will be in safe hands and you can start planning the new chapter of your life. Remember to drain potted plants, washing machines and dishwashers before your Oakville movers arrive to save a little time and to prevent water damage on the rest of your stuff while everything is being transported in the van.
Why choose Hercules moving services?
A stress-free move;
Save yourself the time and physical injury;
Ensure a safe and damage free move;
Fully equipped Oakville movers who arrive on time;
Fully insured and bonded movers;
Upfront pricing and no hidden fees;
Trust more than 10 years of moving experience;
We are different from other residential Oakville movers.
With Oakville full moving services there will be nothing left behind
Having excellent Oakville movers your moving assistants will take all the headaches out of your moving experience. They will be able to handle your entire move easily and professionally while you remain in control. Your Oakville movers will let you participate as much or as little as you want. All you have to do is choose the best movers and get the ball rolling.
Make a reservation and our moving cordinator will arrange everything for you. Let the professional Oakville movers do the job for you.
We'll make the moving experience smooth and pleasant.