Winnipeg Movers
Are you looking for professional Winnipeg movers or even for specialized moving services such as the best piano movers Winnipeg has? With the many moving companies Winnipeg has, you'll be able to find your perfect partners in your relocation process easily. Are you looking to move from Toronto to Winnipeg? Do you need a reliable long distance moving company and storage company in Winnipeg? With the help of the best specialists in the field, you can rest assured that your move will run smoothly and stress-free. Excellent Winnipeg movers will provide good value for your money during each step of the process.
We're proud to provide local moving service in Winnipeg neighborhoods like:
Birds Hill,
Bridgwater Forest,
Bright Oaks,
Canterbury Park,
Charleswood,
Crescentwood,
Crestview,
Downtown Winnipeg.
Fort Garry,
Fort Rouge,
Headingley,
Harbourview South,
Island Lakes,
Linden Woods,
Meadowood,
River Heights.
And much more!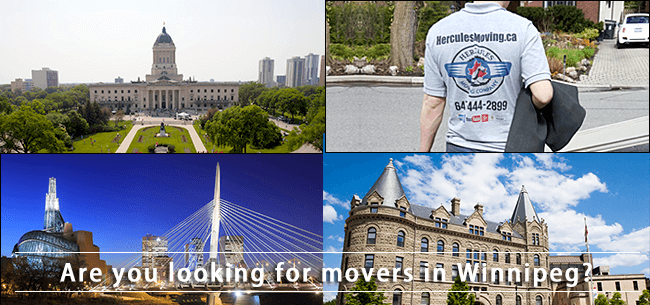 Full moving services
Winnipeg movers offer a variety of services that can easily be manipulated to suit your specific needs. They can deliver packing materials to your house, or even drop off the packers and pack everything up for you. They can assist you with storage space if you need it, move vehicles to a new location and offer cleaning services both before and after your move. Your movers in Winnipeg will work with you to draw up a moving plan as the first step. From there, both you and the movers will know exactly who is responsible for what. The best movers Winnipeg has will stick to their schedule and limit your downtime as far as possible.
Making life easier
Winnipeg moving company offers a variety of services that can be adjusted to meet your specific needs. Their flexible and friendly service will ensure that each of your needs are met, no matter how much of the work you prefer to do yourself. You can choose to do anything you like and let your movers in Winnipeg move your stuff to the new location. Or you can let them know that you prefer to have them do all the work while you sit back, relax and carry on with your life. While choosing your Winnipeg Moving services, Moving companies in Winnipeg's reviews are an excellent way of finding out which movers provide the best services and have the happiest clients.
Moving tips
While working with Winnipeg movers during your move, it is important to stick to the schedule you've decided on. If you will be unable to finish your packing in time, rather let your Winnipeg movers know ahead of time. They will be able to assist you in finding a solution such helping you pack or postponing the move. That way you'll prevent wasting each other's time and adding costs to your move.
Professional movers Winnipeg also suggest that you drain potted plants, washing machines and dishwashers before they arrive. By doing it this way, you'll not only save time but you'll also prevent leaking water from damaging the rest of your things. Winnipeg movers suggest that you keep hallways, walkways and doors free of boxes and furniture to enable them to carry furniture through. Trying to reserve large enough parking spaces close to the entrance at both the old and new locations will also save time during your move.
Moving companies in Winnipeg's' services range from packing, providing packing materials, a vehicle moving, furniture removals, providing storages solutions, and pre- and post-move cleaning services. Your Winnipeg movers will be able to do anything moving related that you need to be done and if they are unable to assist, they will be able to refer you to service providers who will be able to help.
How much does moving cost in Winnipeg?
Relocation cost for your local or long distance move can vary depending on a number of different factors:
Depending on your location and where do you want to move from Winnipeg;
Whether you need a packing, carrying, loading into the van, carrying amount of the furniture, pianos, household appliances and other belongings from your house and travel fees;
The moving price with Winnipeg movers can depend whether you're wishing to move studio apartment, two or three bedroom apartement or larger homes;
The moving cost for the local Winnipeg movers depend on hourly rate. From the movers efficiency will depend how quick and smooth your move will be and how much you will save;
Amount of the vans needed to load all your belongings, from truck rental and it's insurance and etc.
Why choose Hercules moving services?
Save yourself from physical injury and your own expensive time;
A stress free move;
Ensure a safe and damage free move;
Fully insured and bonded movers;
Fully equipped Winnipeg movers who arrive on time;
Upfront pricing and no hidden fees;
Trust 10 years of moving experience;
We are different from other residential Winnipeg movers.
Finding your best Winnipeg movers will change your relocation process from a mountain of work to a smooth and relaxing experience. With the help of your Winnipeg movers, you can rest assured that you'll be in your new home in the blink of an eye without losing any sleep.