Vancouver Movers
Taking the time to find the best Vancouver moving company may seem like a hassle at first, but in the end, it will be worth every minute you spend. The services of the best movers in Vancouver will save you time, money and frustration. Vancouver movers services may include absolutely everything related to moving, and the best movers Vancouver has will be able to provide efficient, friendly and cost-effective services while limiting your downtime to the minimum. Today we're proud to provide local moving service in the best Vancouver neighborhoods like:
False Creek
West End
Lynn Valley
Main Street (Riley Park)
Downtown
Olympic Village/Fairview
UBC
Yaletown
Kitsilano
Killarney
South Granville
Kensington-Cedar Cottage
Capilano
Hastings Sunrise
Seymour/Deep Cove
South Cambie
Dundarave/Ambleside
Crosstown
Gastown/Chinatown
Commercial Drive
Renfrew-Collingwood
Coal Harbour
Lonsdale
Mount Pleasant
Pemberton/Pemberton Heights
Sunset
Victoria-Fraserview
Strathcona
Downtown Eastside
Horseshoe Bay
Marpole
Caulfeild
Shaughnessy
West Point Grey
Kerrisdale
Dunbar
British Properties
Arbutus Ridge
Oakridge
And much more!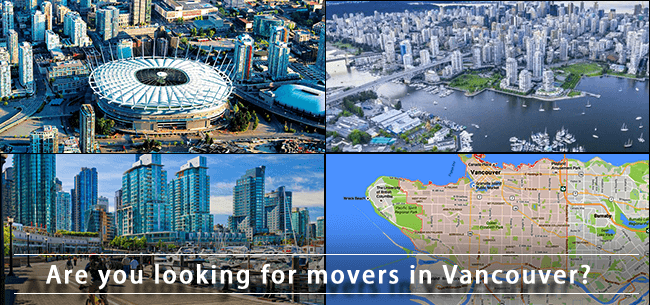 Local Vancouver movers know that each move is unique and they should be able to provide flexible solutions to every challenge you face when moving in Vancouver. It doesn't matter if your move is big or small, over 1 km or 1000 km and whether you prefer a hands-on or hands-off approach, professional movers Vancouver, and even small movers Vancouver will be able to work with you to provide the best possible solution. Your Vancouver movers will discuss a moving plan with you to let everyone know exactly what is expected from them to stay on schedule.
Cut risks with professional Vancouver Movers
Your Vancouver movers know that your belongings are important to you and that's why they'll make every effort to prevent you from damage and breakages. Every move does have some risk involved and that's why your Vancouver movers will offer you moving insurance. Even though movers Vancouver BC cut risks by maintaining their moving vans and keeping them in excellent condition along with employing only the best drivers, moving insurance will protect you against instances of fire, theft, accidents and overturning. Making use of specialists such as piano movers Vancouver will also help to prevent damage to musical instruments that need special care that other local movers Vancouver cannot.
Moving tips
Your Vancouver movers will be able to offer you tips on how to decrease any chances of breakage by giving you some packing advice. When you pack plates, make sure that every plate is wrapped individually, and then stack them on their sides in a sturdy container. Both Vancouver movers, and North Vancouver movers will be able to deliver reusable plastic moving containers to your house, these reusable boxes will offer better protection than cardboard boxes.
When you are packing up your house, Vancouver movers remind you to keep hallways, doors and walkways free from boxes so that they can easily maneuver furniture through the house. Bumping into boxes and having to climb over them is not only time consuming but can cause the contents to break, which is concerning even to cheap movers Vancouver. Vancouver movers also ask that you drain potted plants, dishwashers and washing machines before they arrive on moving day. Doing so will save your movers in Vancouver BC time, and prevent your packed up things from water damage in the moving van.
How much does moving cost in Vancouver?
Relocation cost for your local or long distance move to Vancouver can vary depending on a number of different factors:
Depending on your location and where do you want to move from Vancouver;
Whether you need a packing, carrying, loading into the van, carrying amount of the furniture, pianos, household appliances and other belongings from your house and travel fees;
The moving price with Vancouver movers can depend whether you're wishing to move studio apartment, two or three bedroom apartement or larger homes;
The moving cost for the local Vancouver movers depend on hourly rate. From the movers efficiency will depend how quick and smooth your move will be and how much you will save;
Amount of the vans needed to load all your belongings, from truck rental and it's insurance and etc.
Finding excellent Vancouver movers will go a long way in saving you time, money and frustration during your moving process. Professionals will get the job done faster and with less risk breakages, which will get you settled in at the new location happily and relaxed. Reading through a few Vancouver movers reviews may help you choose the best of the best to ensure a happy moving experience. If you're looking to move your business, then office moving might be more in line with your needs, in which case office movers Vancouver would be the ideal choice for your office move.
The best moving companies that Vancouver has to offer will have you settled in at your new location in no time. You can rest assured that your Vancouver movers know what they are doing and will make every effort to move you quickly, efficiently and without much effort.
Why choose our services?
Save yourself from physical injury and your own expensive time;
A stress free move;
Ensure a safe and damage free move;
Fully insured and bonded movers;
Fully equipped Vancouver movers who arrive on time;
Upfront pricing and no hidden fees;
More than 10 years of moving experience;
We are different from other residential Vancouver movers.
The best and easiest way to get an estimate from Hercules Moving Company Vancouver that is located on

1021 Harwood St #1501, Vancouver, BC V6E 3N3

is to request a quote.