Saskatoon Movers
Are you looking for moving in Saskatoon? Taking the time to choose the best Saskatoon moving company you can find, may seem like a waste of time but it will be worth your while in the end. Even though Saskatoon movers services are readily available, taking the time to find professional movers Saskatoon can save you from a lot of frustration. Hiring a professional moving company in Saskatoon will ensure that you receive the best value for your money while enjoying flexible, friendly and efficient services.
We're proud to provide local moving service in Saskatoon neighborhoods like:
Briarwood
Nutana
River Heights
Sutherland
Mayfair
Silverspring
Central Business District
Avalon
Briarwood
Riverside Estates
And much more!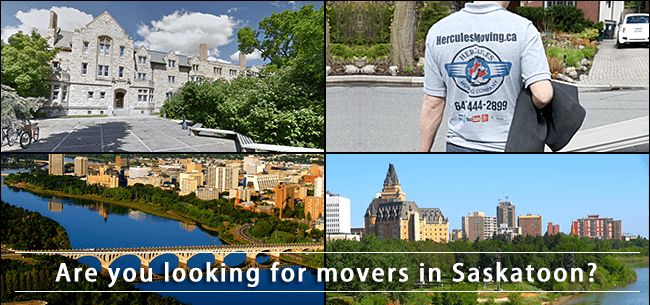 While not all Saskatoon movers are the same, working with the best will take a load off your shoulders. They can provide a variety of moving related services that can be adjusted to meet your personal needs. The best movers Saskatoon has will be able to provide packing and unpacking services. They can deliver packing material to your house and arrange for vehicles to be moved to your new location. If you need storage in Saskatoon, Saskatoon movers will be able to assist or refer you to professionals who can.
Scheduling local move in Saskatoon
The best Saskatoon moving companies know that each move is unique. They will be able to offer flexible solutions to suit your schedule and budget. You can let them do all the work for you or if you choose, your Saskatoon movers can only assist you with furniture removal. Whether you have only a few things or need to move a whole office building, no job is too big or too small for these professionals. Reading their Saskatoon movers' reviews will give you peace of mind that your move is in good hands.
Minimize your risks on your move
Saskatoon movers know that some risk is always present when moving. They will do everything in their ability to minimize your risk. Everything from using only qualified and professional drivers to taking the best care of their vehicles is done to make sure your risks are kept to the bare minimum. To cover you against unexpected risks, your Saskatoon moving company will offer you moving insurance against fire, theft, overturning and accidents.
Packing and moving tips
A few packing tips from Saskatoon movers can also prevent damage and breakage. They suggest that you pack plates, each individually wrapped and on their sides. Use bigger boxes to pack lighter things while heavier items such as books should be packed in smaller boxes. Saskatoon movers remind you to keep hallways, walkways, and doors free from boxes so that furniture can easily be moved through the house.
How much does moving cost in Saskatoon?
Relocation cost for your local or long distance move can vary depending on a number of different factors:
Depending on your location and where do you want to move from Saskatoon;
Whether you need a packing, carrying, loading into the van, carrying amount of the furniture, pianos, household appliances and other belongings from your house and travel fees;
The moving price with Saskatoon movers can depend whether you're wishing to move studio apartment, two or three bedroom apartement or larger homes;
The moving cost for the local Saskatoon movers depend on hourly rate. From the movers efficiency will depend how quick and smooth your move will be and how much you will save;
Amount of the vans needed to load all your belongings, from truck rental and it's insurance and etc.
The best and easiest way to get an estimate for the Saskatoon movers service is to request a quote.
Why choose Hercules Movers in Saskatoon?
Save yourself from physical injury and your own expensive time;
A stress free move;
Ensure a safe and damage free move;
Fully insured and bonded movers;
Fully equipped Saskatoon movers who arrive on time;
Upfront pricing and no hidden fees;
Trust 10 years of moving experience;
We are different from other residential Saskatoon movers.
Saskatoon movers will do all in their ability to provide prompt, efficient and friendly service and limiting your downtime to the minimum. Excellent communication between your Saskatoon movers and you are key to a successful move and they will stay in touch throughout the process from the planning stage right through to picking up their packaging material (if you choose to use theirs).
Relocating with the help of Saskatoon movers can save you from quite a few sleepless nights. Their experience will ensure that everything runs smoothly and without hassle. Whether you are using general movers or specialized services such as piano movers, Saskatoon can offer you the best of the best. You can rest assured that your move is in good hands.