Oshawa Movers
Whether you are planning to move down the block or to the other side of the country, Oshawa movers Ontario will be worth their weight in gold through your relocation process. With a variety of flexible moving related services, movers in Durham region will be able to take all the work off your hands, or if you prefer, do only what you require them to. The best moving companies in Oshawa will work with you to plan your move according to your personal requirements and help you execute the plan to the tee.
Oshawa is the best known as the home of General Motors, Durham College, University of Ontario Institute of Technology. We're proud to provide local moving service in Oshawa neighborhoods like:
Oshawa northeast
Beatrice north
Beatrice south
Hillsdale
Stevenson north
Grandview North
Central Park
Downtown Oshawa
Gibb west
Grandview south
Lakeview
And much more!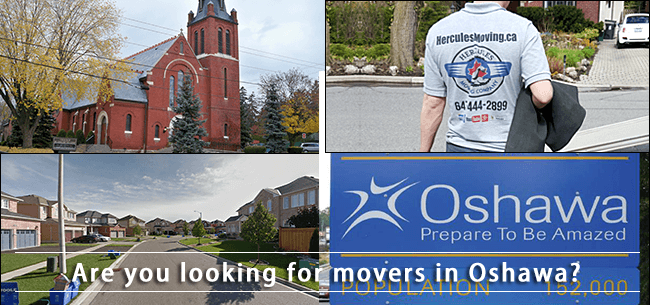 Professional movers Oshawa know that your time, budget and schedule are unique. With a little planning, you can achieve all your moving goals and ensure the process to run smoothly and successfully. When it comes to movers, companies in Durham region really offer some great choices. With so many professional Oshawa movers to choose from, you'll definitely find the perfect solution to your moving challenges.
Oshawa's Full moving services
Your movers will be able to provide services according to your personal requirements. If you choose, they can do everything for you, including delivering packing materials, packing your things up for you, moving everything including vehicles, unpack everything and even provide pre- and post- cleaning services. You can also choose to do everything yourself and only let Oshawa movers do the basics. And if you require specialized services like piano moving. Hercules piano movers Oshawa we will gladly assist.
Finding the best Oshawa moving company
Finding right movers for your relocation may seem like a bit of a challenge, especially with the variety of services available. Although all the best moving companies will provide you with free quotes and advice. And don't forget to check Oshawa movers reviews which may prove valuable in deciding which is the best to use.
Important things you have to know before the move
Your belongings are important to you, and Oshawa movers know that. That's why they'll do everything in their ability to protect you from damage and loss. They only employ the best drivers with excellent track records. Oshawa movers will also offer you moving insurance to make sure that you are protected in a case of fire, theft, overturning or accidents. Whatever happens, you will still have a bed in your new house.
Moving tips from Professional Oshawa Movers
Besides all the moving related services offered by your Oshawa movers, they'll also be able to advise you on the best moving practices and give you some tips and tricks to make things easier. For instance, Oshawa movers suggest you pack lighter things in bigger boxes and heavier things like books in smaller boxes. That way you'll still have fewer boxes, and they will all be easy to carry.
How much does moving cost in Durham Region?
Relocation cost for your local or long distance move can vary depending on a number of different factors:
Depending on your location and where do you want to move from Oshawa;
Whether you need a packing, carrying, loading into the van, carrying amount of the furniture, pianos, household appliances and other belongings from your house and travel feesv
The moving price with Oshawa movers can depend whether you're wishing to move studio apartment, two or three bedroom apartment or larger homes;
The moving cost for the local Oshawa movers depend on an hourly rate. From the mover's efficiency will depend on how quick and smooth your move will be and how much you will save;
Amount of the vans needed to load all your belongings, from truck rental and it's insurance and etc.
Why choose Hercules moving services?
Save yourself from physical injury and your own expensive time;
A stress free move;
Ensure a safe and damage free move;
Fully insured and bonded movers;
Fully equipped Oshawa movers who arrive on time;
Upfront pricing and no hidden fees;
Trust 10 years of moving experience;
We are different from other residential Oshawa movers.
Once you've decided on the movers in Oshawa you'll be using during your relocation, give them a call and schedule your moving date. They will set up an appointment with you to discuss your moving plan, and the ball will be on a roll. As soon as you leave everything in professional Oshawa movers hands, you can relax and start deciding on decor for the new house. They'll have everything under control, and you can relax and enjoy the moving process. The best and easiest way to get an estimate from Oshawa Movers – Hercules Moving Company Oshawa that is located on

724 Aruba Crescent, Oshawa, ON L1J 6B6

is to request a quote.