White Glove Designer Shipping
What does white glove delivery mean? It's the Art of moving.
White glove moving and delivery company and a high-end design studio have a lot of things in common. We both provide superior services using only high-quality materials and employing solely high skilled and experienced professionals. Both designers and white glove movers offer last mile service for their clientele.
White Glove Delivery Services for Designers
Any Designer creates his project personalizing it based on clients' needs and wants. Why should a professional designer or, moreover, a branded design studio break the process of personalization on the last, very important shipping stage?
We bet you want to hear that you were the best and your design services were incredibly unique and artistic. You can do it with our nationwide white glove delivery service. In scientific research on memory, the conclusion is that people tend to remember items at the beginning and end of text, movie, conversation or business relationship.
What does this mean to you?
There are no reasons not to use white glove shipping service as your trump card at the end of a game. We will serve you and your clients with excellence and worldwide experienced professionalism. With Hercules Moving Company's assistance, the colours of your design work will become brighter and more saturated, while customers will only become even happier to see such incredible result and personalized approach. Stand out in contrast to your mediocre competitors using white glove delivery services!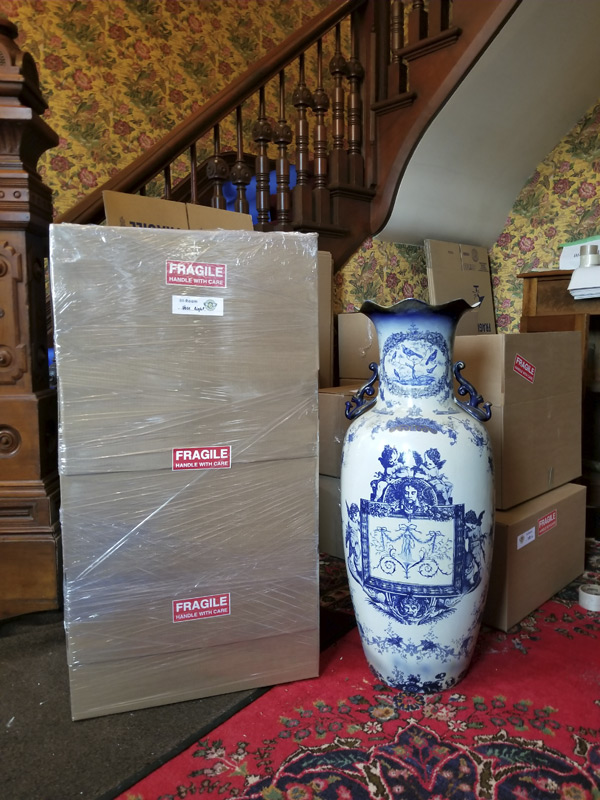 HMC White Glove Moving
Hercules Moving Company provides white glove service before, during and after delivery. We customize our designer transport services to meet your or your clients' unique requirements. Based on a pre-project consultation we develop a logistics management solution. We take responsibility for pre-pickup inspection, packing, wrapping, crating, shipping, unpacking, placement, and installation of all items in your clients' specific location.
Our team contributes the best white glove blanket wrap covering and a state of the art truck, equipped with all necessary tools and moving supplies. Our uniformed movers wear covering on shoes and lay runners down to keep flooring perfectly clean. Furthermore, each time we provide white glove delivery service, Hercules Moving Company applies brand new moving blankets, which were never used, washed or begrimed with dust. Consequently, clean blankets protect furniture from scratches, guarantee the safety of transporting items and increases our attention to details. We not only get a job done, but we also get it done correctly, even the most valuable and sensitive shipments.
Interior Design Services
Are you an interior designer? Our designer services are the perfect supplement to your project, no matter if it is a modern and glamorous condo or a cozy and comfortable house for the entire family. Many of our clientele are interior designers and high-end design studios which develop the advance planning of well-appointed homes, points of sale, restaurants and various art spaces.
Being a high-end customer, interior designers require white glove moving storage and shipping, same day delivery or even a last call white glove relocation service. Our interior design moving company performs complex white glove service including furniture delivery and removal, white glove transportation of large household appliances, relocation of expensive electronics and a variety of other shipping requests. It is merely in vain to find a better interior design moving and storage company in Canada or worldwide.
Artwork, Expensive Shipping and Storage
HMC has white glove storage where designers keep their FF&E, furniture, artwork and fine art objects. Our highly secured and temperature-controlled art warehouse is the ideal choice for keeping your pieces of art in a safe place before their actual delivery. Most treasured fine furnishings and antiques require the appropriate fine art handling. If you are a professional designer and want to maintain a level of services on the top-notch level until your art or furniture reaches the customer, you need white glove furniture shipping. You can ship and store your design furniture and other artwork with Hercules Moving Company and take the additional advantage of customer service of your company.
Designer Furniture Manufacturer
If you are a large designer furniture manufacturer, you know how hard it is to become the professional in any business field and how long does it take to start delivering only first-class goods and services. That's why Hercules Moving Company spent lots of time to develop and master white glove furniture delivery to excellence. It is not the issue of what type and size of your designer furniture is, HMC will deliver all of them. We may be your end-to-end white glove service partner, including white glove storage and delivery if you run out of storage space. Partnering means a lot to us, that is why we strive to be the most reliable national white glove delivery service company.