Montreal Movers
Montreal movers are the best solution if you plan to relocate your house or office. It doesn't matter if you plan to move down the block or to a completely different city. The services of movers in Montreal will help you turn a moving nightmare into a rested and relaxed process without you having to lose any sleep. Montreal movers offer a variety of moving related services including student movers Montreal, Montreal piano movers, and even Montreal to Toronto moving, they'll all be able to provide friendly and flexible solutions to every moving problem you may have. With the help of good Montreal movers, you can rest assured that your relocation is in good hands.
We're proud to provide local moving service in Montreal neighborhoods like:
Plateau Mont-Royal
Mile End
The Latin Quarter
Parc Jean-Drapeau
Outremon
Little Burgundy
Quartier des Spectacles
Plateau-Mont-Royal
Notre-Dame-de-Grâce (NDG)
McGill Ghetto
Griffintown
Westmount
Côte-des-Neiges
Old Montreal
Verdun
Outremont
Saint-Henri
And much more!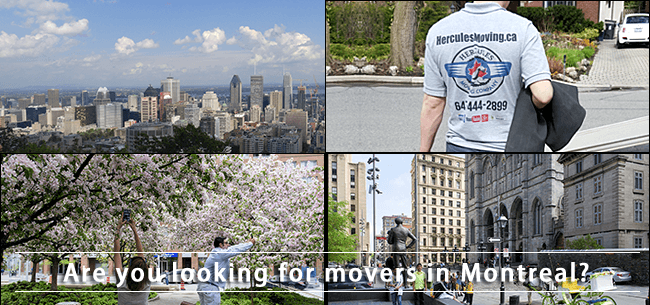 Full moving services in Montreal
Your Montreal movers will provide services right through from planning your move up to post-moving cleaning and unpacking if you prefer. The amount of work you do during your move is completely up to you. You can let your Montreal movers know that you would like them to do absolutely everything (which is usually a great idea, especially if you are moving offices) or you can ask them to only move your furniture to the new location. The best movers Montreal has to offer will also let you pack your personal things and pack the rest for you if you prefer a partially assisted move.
Flexible moving solutions
Your Montreal moving company can provide you with a range of moving related services and will offer flexible solutions to suit your personal situation. They can deliver packing materials or pack everything up for you. They can move vehicles to the new location, unpack your things at the new place and even offer pre- and post- moving cleaning. Whatever you need, Montreal movers will be able to assist, or if necessary, refer you to someone who can. Professional movers Montreal will do everything they can to make the process as easy as possible.
Get moving tips from Montreal Movers
Because they have handled quite a few moves, Montreal movers will be able to offer valuable advice when it comes to packing. Everyone knows to wrap plates and all glass items, but did you know that stacking your plates on their sides will prevent breakage, well the best movers in Montreal will know? Also, Montreal movers suggest draining potted plants, the dishwasher, and washing machine before they arrive. This will not only save time but will also prevent water damage on the rest of your belongings.
The best moving companies Montreal has will remind you to check moving regulations at both the old and new buildings before your moving company Montreal shows up. Check where the moving company in Montreal can park and what gates need to be used. Montreal movers services require space for uploading and offloading furniture. Try to reserve parking spaces close to the entrance of both the old and the new buildings, to save on time and labor for your local movers in Montreal.
For any mover Montreal, space is required to move around mot only outside, but also inside. Montreal movers remind you to keep hallways, doors and walkways free from boxes and furniture to allow Montreal moving companies to maneuver furniture easily. Also, label your boxes according to the rooms where they need to go, so that your Montreal movers can easily put them in their right place.
How much does moving cost in Montreal?
Relocation cost for your local or long distance move can vary depending on a number of different factors:
Depending on your location and where do you want to move from Montreal;
Whether you need a packing, carrying, loading into the van, carrying amount of the furniture, pianos, household appliances and other belongings from your house and travel fees;
The moving price with Montreal movers can depend whether you're wishing to move studio apartment, two or three bedroom apartement or larger homes;
The moving cost for the local Montreal movers depend on hourly rate. From the movers efficiency will depend how quick and smooth your move will be and how much you will save;
Amount of the vans needed to load all your belongings, from truck rental and it's insurance and etc.
The best and easiest way to get an estimate for the Montreal movers service is to request a quote.
Why choose our Montreal Movers services?
Save yourself from physical injury and your own expensive time;
A stress free move;
Ensure a safe and damage free move;
Fully insured and bonded movers;
Fully equipped Montreal movers who arrive on time;
Upfront pricing and no hidden fees;
Trust more then 10 years of moving experience;
We are different from other residential Montreal movers.
Reading through Montreal movers reviews is an excellent way of finding the best moving companies in Montreal. You'll also be able to find the best piano movers Montreal has to offer if you need specialized services. So whether you need small movers Montreal, or movers Toronto to Montreal, once you've decided on the best moving company for you, and have scheduled the move, you can relax because your relocation process is in safe hands. The best and easiest way to get an estimate from Hercules Moving Company Montreal that is located on

4851 Chemin de la Côte-Saint-Luc #301, Montreal, QC H3W 2H6

is to request a quote.