Regina Movers
Are you moving to Regina or moving in Regina? Regina moving company's reviews are the best way of finding great moving companies that will turn your upcoming move from a challenge into a smooth and easy process. Choosing between companies with the best reviews will ensure that you make use of the very best movers in Regina to assist your relocation. Whether you are moving house or offices and whether you are moving down the block or across the country, great Regina movers will be valuable partners who can lift a weight off your shoulders.
We're proud to provide local moving service in Regina neighborhoods like:
Dieppe,
McNab,
Normanview,
Normanview West,
Prairie View,
Rosemont / Mount Royal,
Sherwood / McCarthy,
Walsh Acres / Lakeridge,
Hillsdale,
Arcola East.
Boothill,
Dewdney East,
Al Ritchie,
Centre Square,
Eastview,
Heritage,
North Central,
Northeast,
Uplands.
And much more!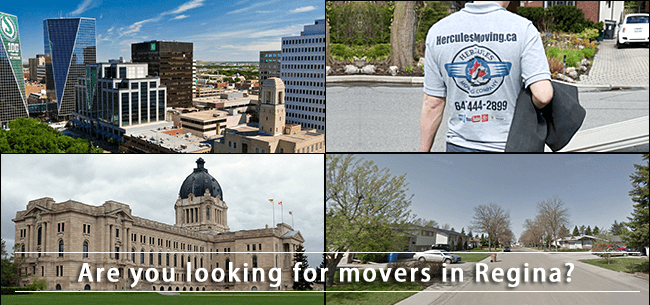 The moving services you get
Regina movers services can include absolutely everything move-related or be limited to the bare minimum. Your personal requirements will be the deciding factor when you are choosing which services you'll be using. Your Regina moving company will assist you in drawing up a moving plan. The plan will guide every party involved to stay on schedule. Because your Regina movers value your time, they'll do everything in their ability to limit your downtime as far as possible.
Depending on your requirements, you can choose to make use of specialized services such as piano movers in Regina. Regina offers a lot of excellent specialists who will be able to move your musical instrument with ease. If you require storage facilities, most Regina movers will be able to assist but if your movers can't they'll be able to recommend the best available options. Regina movers can assist in packing and unpacking, deliver packing materials, move vehicles to your new location and offer pre- and post-move cleaning services.
All the professional moving companies Regina have, know that your belongings are important to you. That's why they'll take every precaution to protect you from damage and loss. They only employ the best drivers with excellent track records and track vehicles via GPS. Regina movers will also offer you moving insurance. In a case of fire, theft, overturning or an accident, your furniture will be covered.
Moving tips from Regina Movers
Because Regina movers have been around the block a few times, they know all the best moving tips and tricks and will gladly share to make your move as easy as possible. They suggest that you drain all potted plants, washing machines, and dishwasher before your Regina movers arrive on moving day. By doing this you will not only save time but you'll also prevent water damage on the rest of your belongings.
How much does moving cost in Regina?
Relocation cost for your local or long distance move can vary depending on a number of different factors:
Depending on your location and where do you want to move from Regina;
Whether you need a packing, carrying, loading into the van, carrying amount of the furniture, pianos, household appliances and other belongings from your house and travel fees;
The moving price with Regina movers can depend whether you're wishing to move studio apartment, two or three bedroom apartement or larger homes;
The moving cost for the local Regina movers depend on hourly rate. From the movers efficiency will depend how quick and smooth your move will be and how much you will save;
Amount of the vans needed to load all your belongings, from truck rental and it's insurance and etc.
Why choose our services?
Save yourself from physical injury and your own expensive time;
A stress free move;
Ensure a safe and damage free move;
Fully insured and bonded movers;
Fully equipped Regina movers who arrive on time;
Upfront pricing and no hidden fees;
Trust 10 years of moving experience;
We are different from other residential Regina movers.
When it comes to movers and moving in Regina, Regina has a few great options to offer. Make sure to choose professional movers Regina to prevent loads of frustration later. Using professionals with good reviews can take a load off your shoulder and provide all the assistance you need by providing flexible, friendly and efficient services. They offer excellent value for your money and will definitely save you from a few sleepless nights.
Having the assistance of Regina movers during your relocation process will change a moving nightmare into a smooth and enjoyable process. Your Regina movers will be worth their weight in gold and while they take care of everything, you can rest assured that your move is in good hands.